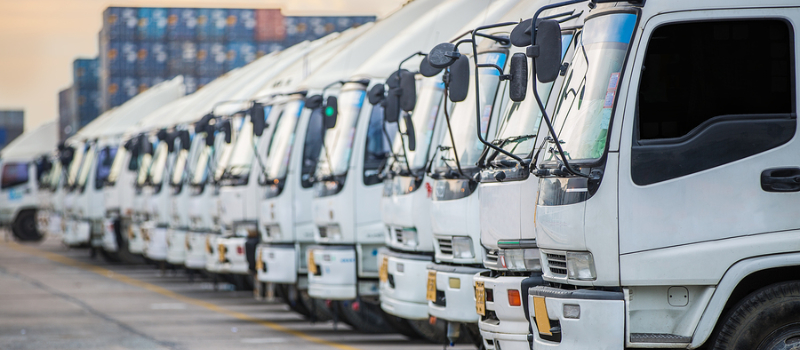 Mobile shredding is an efficient solution for document destruction. Our mobile shredding trucks come directly to your location to complete your shredding project onsite. Mobile shredding includes a certificate of destruction and recycling. It is a professional and safer alternative to in-house shredding.
Watch the video or read the transcript below to find out how mobile shred trucks can save you time and money on your next document shredding project.
Video Transcription
What is a Mobile Shredding Truck?
A mobile shredding truck comes with industrial shredders that bring professional shredding to your curbside. Our trucks make it possible to provide route services with multiple stops while collecting high volumes of destroyed media. Our trucks feature exceptionally powerful machines that can destroy up to 8,000 pounds of paper an hour, as well as shred CDs, DVDs, hard drives, and more.
How Much Does a Mobile Shredding Truck Cost?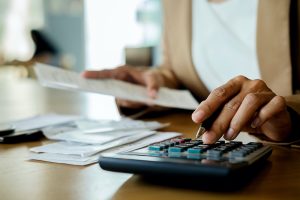 For a project of around 120 lbs, the national average is between $130-$150. This varies based on location, project size, and other factors. We recommend giving us a call for more accurate information. Shred trucks can be scheduled to come to your location as often as you need.
Whether it's a one-time document purge or regularly scheduled shredding, using mobile trucks provides both a secure and cost-efficient option for larger shredding projects.
How a Shred Truck Works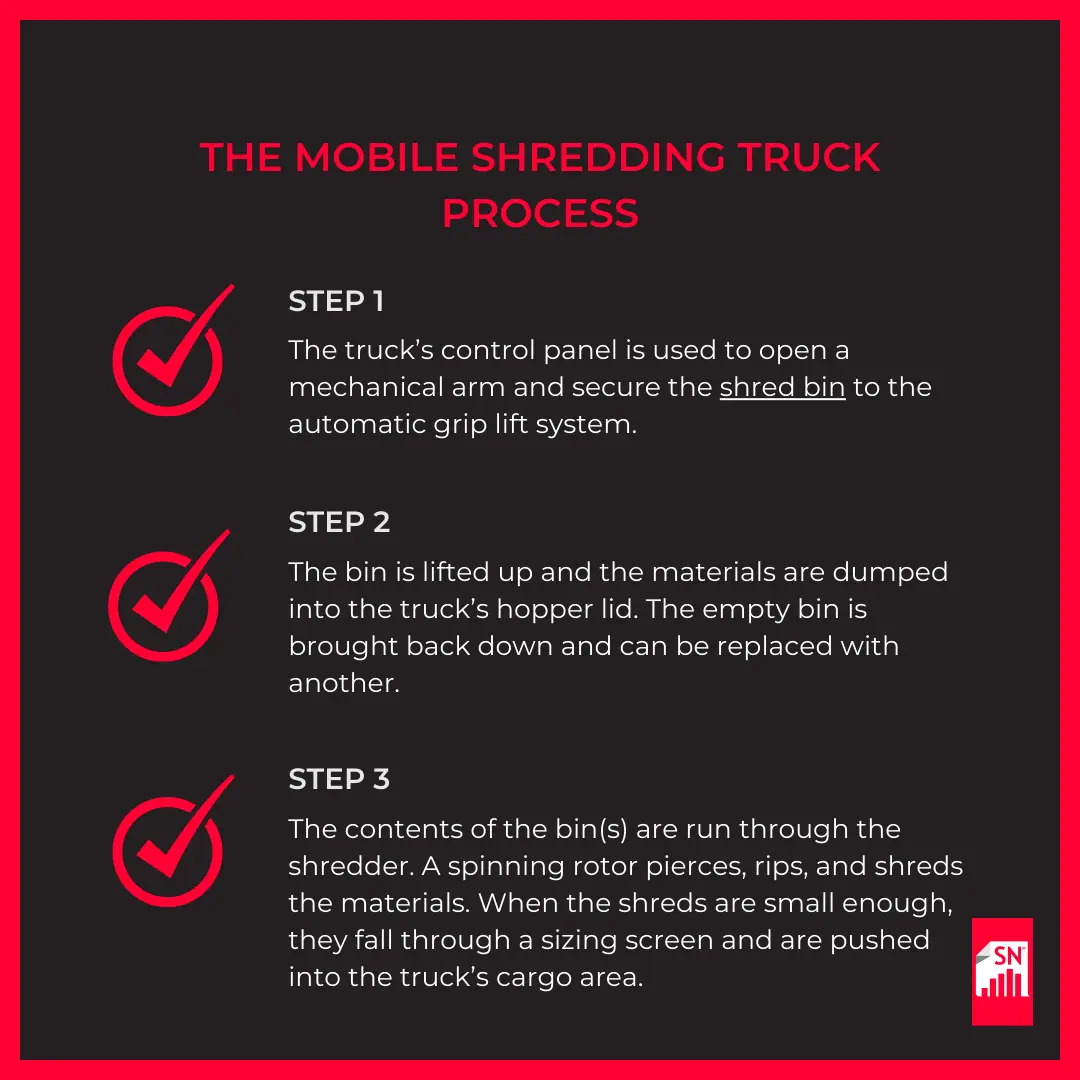 A shredding truck looks similar to a residential garbage truck but is much more complex. Here's how it works:
Step 1: The truck's control panel opens a mechanical arm and secures the shred bin to the automatic grip lift system. Most trucks are compatible with 64, 68, and 96-gallon bins.
Step 2: The bin is lifted up and the materials are dumped into the truck's hopper lid. The empty bin then goes back down and another can take its place.
Step 3: The contents of the bin(s) are run through the shredder. A spinning rotor pierces, rips, and shreds the materials. When the shreds are small enough, they fall through a sizing screen and are pushed into the truck's cargo area. The shreds then mix and compact with materials from other stops.
What are the Benefits?
The greatest advantage of mobile shredding is that you can witness the entire shredding process. Witnessed shredding provides peace of mind and legal compliance. It is an easy way to boost security measures for your home or business.
Another advantage of mobile shredding is its convenience. Not only is shredding completed at your location, but the entire process takes only a few minutes. You can safely destroy large amounts of documents without a huge disruption to your day.
Mobile shredding services comply with all federal and state privacy regulations. Our services fulfill HIPAA, FACTA, and GLBA standards to meet legal requirements across all industries.
Is Mobile Shredding Right for Me?
Mobile shredding is ideal for projects of 100 to 300 pounds of paper. It is cost-effective and saves you the hassle of shredding yourself or traveling to a shredding provider. Shredding services can be completed as often as needed with regularly scheduled shredding or as a one-time purge.
Mobile shredding is excellent for business and residential services. It is a secure and affordable option that ensures the proper handling of your documents and the protection of your privacy.
Schedule a Mobile Shredding Truck to Visit Your Home or Office Today
Shred Nations has a network of reliable mobile shredding providers across the country. Give us a call at (800) 747-3365 or fill out the form to connect with providers near you. Within minutes, you will receive competitive price quotes from shredding companies in your area. You will be able to compare your options and schedule a mobile shred truck to visit your location right away.