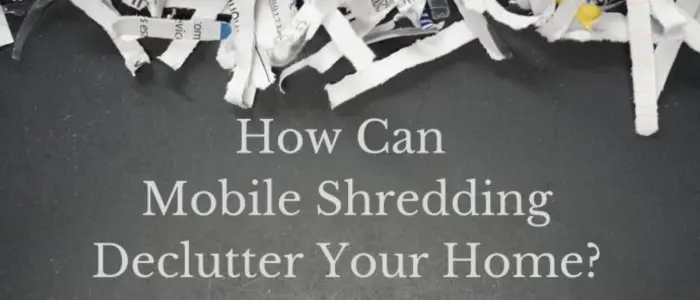 Working from home has been a convenience for some, and a nightmare for others. Either way, after two or so years of working out of the house, you may have noticed an abundance of paperwork piling up. This is where mobile shredding can be a huge convenience.
Whether it's your home office, dining room, or kitchen table, this paperwork is surely getting on your nerves at this point. While many businesses transitioned to digital documents, many industries just don't have that luxury. With spring right around the corner, you may be asking yourself "what do I do with all this stuff"?
The idea of packing all that paper into boxes to take to a shredding facility may seem like an insurmountable task. Fortunately, there is a better way. With mobile or "onsite shredding" as it's often called, we can bring the shredding to you. Best of all, depending on the volume of paperwork you have, it's often much cheaper.
Reasons to Utilize a Mobile Shredding Service
Mobile shredding is our most secure and most convenient option to declutter your home. Many people are under the assumption that mobile shredding is strictly for businesses or large-scale operations. This is simply not true, and many homeowners are seeing the benefit of having the shredding come to them. Here are a few reasons why.
Since many people are continuing to work remotely, many shredding providers have had to rethink the ways they do business. Adding residential stops to their service routes is just one of the many ways we're working to make your home office as efficient as possible. Not the mention the fact that professional shredding is really the only way to make sure your sensitive data is handled properly.
Working Remotely May Have Increased Your Paper Waste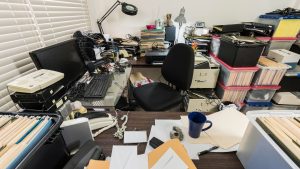 If your industry is still required to rely on paper documents, your home office may look like a disaster zone. This paperwork often contains sensitive or proprietary information that simply can't be thrown in the trash. This documentation needs to be destroyed properly.
Most home shredders only cut paperwork into strips. This is considered the least secure shredding method, and often won't meet industry compliance standards. Our mobile shred trucks use cross-cut shredding technology or "confetti cut" shredding technology to cut your paperwork into tiny pieces. This makes the paperwork impossible to reassemble.
Furthermore, in most cases only paper shredded professionally can be recycled. This may sound counter-intuitive, but paper shreds put into recycle bins often end up in the landfill. Professional shredding operations can sort and separate recyclable paper shreds to lessen your impact on the environment.
Onsite Shredding is Convenient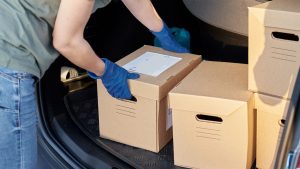 When we come to you, this alleviates the hassle of having to pack up boxes full of paperwork for transport. This also removes the task of driving those boxes to a drop-off location. Sure this may be a good option for one box of paper, but what about several?
A single box of paper is estimated to weigh in at 30 pounds or more. Now imagine you've got five or six boxes to unload. Do you really want to haul 150-200 pounds of paperwork in and out of your vehicle?
Shred Nations has helped thousands of customers with their mobile shredding needs. Don't just take it from us, read some of our five-star customer testimonials.
Mobile Shredding is Affordable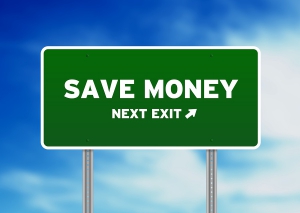 You may be saying to yourself "of course I don't want to haul 200-300 pounds of paper around town, but doing that is surely going to save me money, right"? You might be surprised by the answer.
Nationwide, most drop-off locations charge about $1.00 per pound of paper to shred. On the flip side, the national average to have a mobile shred truck come to shred onsite is around $130-$150 for a project up to 120 lbs. However, this does vary based on location, project size, and other factors. **Please give us a call for specific pricing in your area.
This makes any job of three boxes or more ideal for mobile shredding. Of course, these prices and fees can vary depending on special circumstances, distance, and location, but on average mobile shredding costs are much more affordable than you might expect.
Plus, can you really put a price on the convenience? You won't need to load and unload your car, put wear and tear on your vehicle, or factor in the cost of gas. Just show our employees what needs to go, and we'll do the rest.
Mobile Shredding is Secure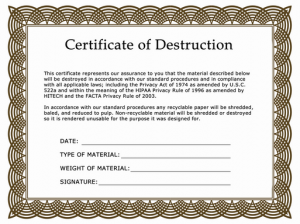 Mobile shredding is one of the most secure services we offer. Every service provider in our network adheres to the strictest industry standards of compliance. All of our providers are HIPAA and FACTA-compliant and follow all applicable state and federal laws regarding privacy.
This makes mobile shredding a great option for nearly any business in nearly any industry. We guarantee our work and will provide a certificate of destruction with every service we provide. This certificate is a guarantee of compliance and comes with information including the time and date of shredding, as well as any witnesses and a unique serial number for your records. You can rest assured that your information will be destroyed to the highest industry standards.
Shred Nations Has Answers and Solutions
Our experts are standing by to help you get your shredding project started. Our years of expertise and industry knowledge will help put you on the right path to decluttering your home or office. Just give us a call at (800) 747-3365, or simply fill out the form on this page to get a free quote today! We're here to answer any questions you may have, and we're dedicated to finding the right service for your needs.