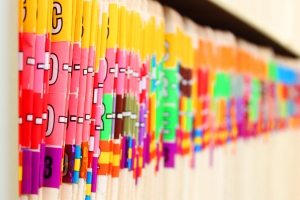 Because every medical record contains protected heath information, you need to ensure that you have a secure full-proof medical records shredding plan in place to prevent a data breach and hundreds of thousands of dollars in fines and penalties.
Learn about protected health information and how to dispose of medical records properly in the articles below.
Click any of the titles to learn more!
Privacy laws and steep fines that come with HIPAA make secure medical records shredding all the more critical. Use this article to get a guide to keeping your medical records disposal HIPAA compliant.
HIPAA requires every medical practice to up their attention to information security. If your practice is not shredding then you need to get started today.
This article will discuss PHI- what it is, proper ways to dispose of it, and the consequences of not taking care of your patient's personal information.
One of the hardest jobs for a health facility is finding the space to store all their records. A solution to this ever-growing problem is document destruction. However, there are steps that all medical centers must take before the shredding is ever done.
Have you ever wondered what happens with medical waste? Or wondered what exactly medical waste is? Sharps disposal itself is a HUGE field to cover because so many different types of businesses work with medical sharps. Think about doctors, dentists, and even tattoo artists.
This article offers insight on medical record shredding, how to dispose of Protected Health information, and items you should include in a medical record destruction log.
Get Free, No-Hassle Quotes on Medical Records Shredding Today
Shred Nations can help protect your practice from a potential PHI data breach. Our network of HIPAA-compliant shredding providers will quickly dispose of your medical records. We shred records for the following types of practices (and more):
Family Medicine
Emergency Medicine
Internal Medicine
OB/GYN
Neurology
Pediatrics
Covered Entities
Business Associates
At Shred Nations we can get you free quotes for all of the medical records shredding you need within minutes. To get started, fill out the form on the right hand side of this page, or give us a call at (800) 747-3365.