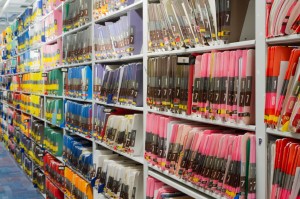 Medical records are one of the most sought after sources of information for identity thieves.
Not only is it important to make sure that your firm or office is shredding medical records but it is also the law.
HIPAA is very strict with the proper disposal of personal health information (PHI). All of our solutions will give you a certificate of destruction for you HIPAA compliance records.
Once your medical records have been converted to electronic format, what do you do with them? You cannot throw them away because you risk that they may fall into someone's hands that should not have them. Shredding medical records is easy, efficient and cost effective.
Medical records destruction is our forte. We shred records for the following types of practices (and more):
Family Medicine
Emergency Medicine
Internal Medicine
OB/GYN
Neurology
Pediatrics
Covered Entities
Business Associates
At Shred Nations we can get you a quote for all of the medical records shredding you need within minutes. Fill out the form on the right hand side of this page, or give us a call at (800) 747-3365.
Want to learn more about medical records and the implications of not protecting your patient's records from identity thieves and data breaches?  Check out our in-depth whitepaper Mishandling Medical Records- Preventing Disaster.