Every business collects and maintains private information. Oftentimes consisting of confidential proprietary and personal information for their employees and customers, these documents should be shredded and never just left in the trash. Using a professional commercial shredder helps to make the process easy. Destroy your sensitive business documents, maintain compliance, and make it efficient.
Protecting the sensitivity of this information is a legal requirement according to FACTA and HIPAA not only on a federal level but also on a local and state level, and with these laws there also come steep fines for noncompliance. Besides fines, a data breach can also cripple company reputations, making a subtle, yet nonetheless significant financial impact.
The need to shred is clear but the best way to do it isn't. With multiple factors to consider including budget, convenience, or security, some commercial shredders are better suited for different projects over others. But whether you're shredding on a large scale or looking for an option that doesn't cut into your work productivity, here you can find the comparisons to help you make an informed decision.
Purge Shredding vs Recurring: Which Suits Your Business?
In the most general sense, there are essentially two basic types of commercial shredding services—a one-time shredding purge, and recurring services to regularly clean out documents marked for destruction as needed.
To give you a clearer idea of their difference and what each type entails, below we highlight some of the key considerations and advantages that come with each:
One-Time Purge Shredding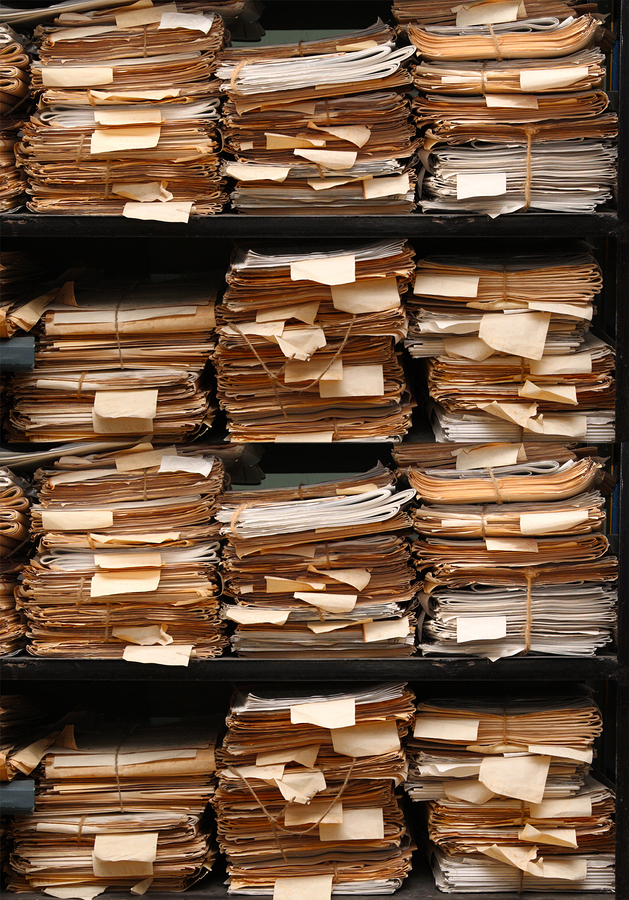 As it's name implies, purge shredding is typically a one-time event where a business or organization shreds a large amount of documents all in one fell swoop.
To handle bulk shredding, businesses have a variety of commercial shredding services available ranging from on site mobile shredding to off site shredding facilities.
With both services, we come to you to pick up documents and handle the shredding so you don't have to waste a second of your valuable work time on document destruction.
Ideal for businesses who have large inventories of documents but don't necessarily need ongoing services, shredding purges are often used as a once-a-year opportunity to shred archived documents that have passed their required retention times and are no longer necessary.
Although typically an annual event, commercial shredder purges can be requested as needed for whenever there's a large number of documents needing secure disposal. In some cases, companies also use purge shredding on a quarterly basis to help keep their document volume to a minimum and ensure sensitive information isn't hanging around for a full year before destruction.
Regularly Scheduled Shredding
For a document management plan to be successful, documents need to be managed throughout their entire lifecycle—including their eventual destruction.
In order to maintain an organized document management plan, businesses also need a well-maintained document shredding program to ensure they end on a secure note.
Over the course of a year, the average office worker uses roughly 10,000 sheets of paper—translating to 40 documents each day—a number which can quickly stack up as businesses multiply these by the number of employees working in the office.
In a single month, a business employing only 10 people will already consume 12,000 sheets of paper. With such a large number of documents, these not only eat up precious office space, they also heighten the risk for any sensitive information they contain to be stolen or misused while hanging around the office as they await shredding.
With ongoing commercial shredder services however, businesses are provided with locking shredding bins to safely collect the documents they have queued up for destruction.
Available for weekly, bi-weekly, and monthly pickup via an off site or mobile shredding service, these documents can be regularly cleaned out to create more space for new employees and new documents and ensure sensitive information is immediately destroyed before it has the chance of coming back to bite you.
Comparing Commercial Shredder Options
Every business has its own individual priorities to consider as they shop around for shredding services.
Ranging from budgetary requirements, to security concerns or a need for convenience, there are several document destruction service options to best meet business-sized shredding needs, including:
Renting or Buying a Shredder
Buying or renting a paper shredder
is often one of the first options businesses and individuals will consider and ask about when it comes to safely cleaning out and throwing away old documents.
With a standard store-bought paper shredder however, these are typically designed for personal use, and as a result tend to fall short of shredding needs for businesses.
During the shredding, an employee would need to go through the painstaking process of individually removing the staples and paper clips on each and every document just to start. To truly bring it to a crawl, the papers also need to be shredded one at a time to avoid jams, and even then it still isn't a foolproof defense against jamming and further delays.
On the other hand, there are industrial shredders—capable of chewing through as much as 20,000 pounds of paper per hour. This power comes with significant size however, and unfortunately makes industrial shredders far too large to fit through an office door—which is where a shredding truck comes into the picture.
A shredder built into the box truck offers a way to shred on a large scale without the complications that come with trying to buy a shredder—in other words, providing an affordable option for renting an industrial shredder instead.
Mobile Shredding
An innovative way to combine the power of industrial shredders with the benefits of still being able to manage shredding from your office, with mobile shredding services a truck comes directly to your curbside to collect the documents and shred them with an onboard shredder while you watch.
Particularly helpful for businesses who need document shredding on a recurring basis, mobile shredding provides an ideal balance of cost-efficiency and convenience.
With a mobile service, a business can dispose up to 300 lbs of paper (10 standard file boxes) for a flat price of $100—eliminating the cost of time, labor, and maintenance that come with buying a shredder.
Another key advantage to mobile shredding stems from its security. With all commercial shredder services, businesses are provided a certificate of destruction to guarantee the destruction is HIPAA and FACTA compliant, and with mobile shredding, this can be taken one step farther by businesses being able to witness the shredding themselves.
Depending on the number of documents you need to shred, some shredding services will be more fitting than others. To get a measure of how your individual document volume stacks up, you can use our shredding conversion calculator to help get a better estimate on how many document boxes you have to shred.
Off Site Shredding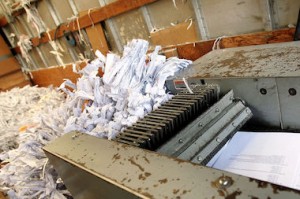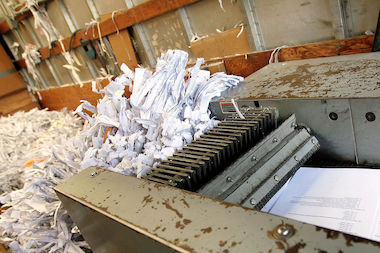 Let's say you have more documents than the recommended 300 lbs for mobile shredding services.
At this point, you might now be wondering if there's a more suitable option for handling these large scale commercial shredding needs.
Enter off site shredding services. Similar to mobile shredding services in the sense that off site shredding offers the same convenience of having a provider come out to your business to pick up documents for you, and the only real difference is the documents are shredded at an off site facility instead—in turn lowering the cost of service.
When businesses are looking for purge shredding where a large number of documents need to be shredded all in one go, off site shredding services are geared to handle these large scale needs. Since the trucks don't need to stay on site to shred the documents, the time this saves for the provider translates to money saved by the customer.
While there isn't the opportunity to witness the shredding, no privacy laws require it—it's just that some feel more comfortable by doing so. Like with mobile or our other shredding services, businesses are still provided a certificate of destruction for compliance with shredding laws and to ensure a secure chain of custody throughout destruction.
Get Free Quotes on Using A Commercial Shredder for Your Business
There are a range of shredding options available to businesses and companies; however, there are also often a range of needs and requirements individual organizations have for their document destruction.
At Shred Nations, we partner with a nationwide network of top shredding providers, specializing in connecting businesses with the right shredding services to suit any schedule or budget.
For more information or to get started with scheduling with a nearby mobile or off site shredding provider to come out to your business today, just give us a call at (800) 747-3365, or fill out the form for free and personalized shredding quotes from local providers in your area.