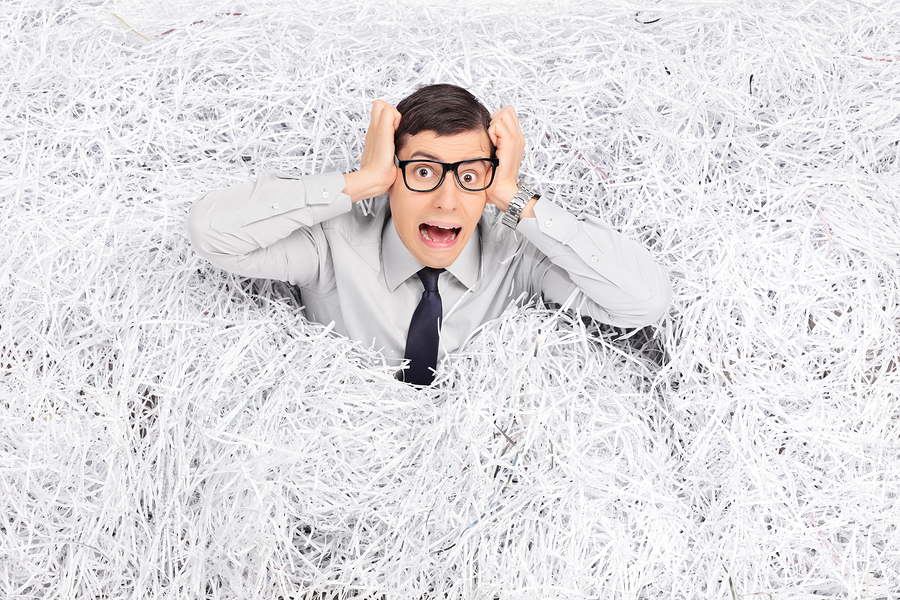 The correct way to run a shredding program is to manage the documents from creation to destruction. This can be difficult for a business to manage on top of day-to-day tasks. However, in order for a shredding program to be successful, it is important to dispose of unnecessary documents.
The only way to guarantee complete safety and security for document destruction is an organized and well maintained document shredding program.
According to the Minnesota Office of Environmental Assistance, the average office worker uses 10,000 sheets of copy paper annually. That means 40 sheets each day. Your business probably recycles much of its paper—and that's great. The American Forest & Paper Association reports that more than 65% of paper consumed in the United States was being recycled in 2012.
So what about that remaining 35%? It could be sitting in an empty cubicle, collecting mold in a back room or garage or, maybe, it is in a self-storage facility. These do-it-yourself alternatives not only eat up space; they could put your most sensitive information at risk.
A Regularly Scheduled Shredding Program has Many Advantages:
A shredding management program can protect you in litigation and help ensure compliance with federal and state laws and regulations regarding document retention
Plan and implement a program for storing, accessing and disposing of records to ensure compliance
Evidence of a clear and consistently enforced records retention program will go a long way to convince the court that the destruction of a document was reasonable.
A proper shredding company will ensure that your documents have a secure chain of custody from the time that they are picked up to the time that they are destroyed in a shredder.
Always receive a Certificate of Destruction detailing date and time of your document destruction
Reduce the risk of identity theft and noncompliance with customer and employee information privacy laws
Create more space for new documents
Maintain a stable and organized workplace
Save time for employees who are constantly looking through files and documents
Use the infographic below to compare a one time purge with a regularly scheduled shredding program. Find the system that fits your home or business the best.

Shred Nations Can Help You Find a Local Shredding Provider
Shred Nations provides secure document shredding services through a network of providers' with locations nationwide. The beauty of Shred Nations is that our members compete for your business. Our providers will provide comprehensive quotes within minutes for your document shredding and recycling project.
If you believe it is time for your company to step away from do-it-yourself shredding, Shred Nations is here to help. To get started, fill out the form to the right, or give us a call at (800) 747-3365.