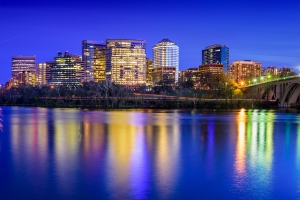 Northern Virginia is among the most affluent areas in the Nation, with major historical and political sites including the Pentagon and Central Intelligence Agency not far from its horizons.
Made up of the 14 counties and 7 cities that sit to the southwest of Washington D.C. and the Baltimore-Washington metropolitan area, there is certainly a need for secure shredding solutions to match the massive amount of paperwork and digital media produced in the region each day.
Shred Nations Northern Virginia strives to offer its various shredding and document destruction services at competitive pricing and with flexible service schedules so that we can best meet the needs and budget of each of our Northern Virginia customers.
Our shredding locations throughout the Northern Virginia region can provide you with multiple shredding quotes from the top contractors in your area, and whether mobile or offsite, weekly service or a one-time shredding purge, when companies compete for your business, you win.
Available Shredding Services from Shred Nations Northern Virginia
Your average workweek is busy enough as it is—so who has the time for taking all your documents to a drop off site or offsite shredding facility? With mobile shredding services, our secure mobile shred trucks can conveniently come to you, shredding all your information onsite and while you watch!
When you have so much paperwork piling up that a mobile shredding service no longer becomes economically viable, then an industrial shredder that is ideal for regular and large-scale shredding at one of our offsite shredding facilities it like to be your best bet.
Before retiring old electronics, be wary of the information they may still contain. Without absolute destruction of your digital media, software actively used by data and identity thieves can still recover your sensitive files. Use Shred Nations Northern Virginia's hard drive shredding and electronic media destruction services to safeguard your data today.
Applicable Shredding Laws and Regulations in Northern Virginia
Virginia Public Records Act (State of Virginia PL. 2006, C.909) – According to this Virginia law, all public records are required to be destroyed once its required retention period has passed. Additionally, no person or agency may legally sell or give away a public record as well.
Request Free, No-Obligations Quotes on Shredding Services Throughout Northern Virginia!
Whether you're looking for a quick and easy drop off shredding location to take your documents, or you would instead prefer to have a convenient shredding truck come directly to you, Shred Nations Northern Virginia offers a variety of safe and secure shredding options to meet our customers' various needs.
To receive several free quotes from the top Northern Virginia shredding providers in your area, simply fill out the form to your right, or just give us a call at (703) 348-6233.
Within merely a few minutes of processing your request, one of our shredding experts will be in touch to answer any questions you may still have, as well as help you to set up and schedule your shredding project.
Our normal operating hours are Monday–Friday from 9:30 AM to 6:00 PM, and Saturday from 10:00 AM to 4:00 PM, EST.