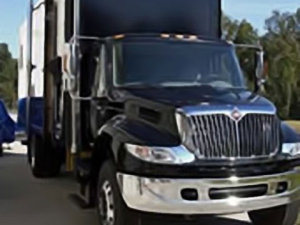 Mobile shredding is the cost effective option of having a shredding professional come to your location and shred all of your paper documents on site. A mobile shredding truck comes equipped with an industrial shredder allowing the paper to be shredded completely on site.
How Much is Mobile Shredding
When estimating the cost of mobile shredding, there are a few variables that you should take into account.  First, you need to determine how much paper you have to be shredded. Shredding pricing is typically $1 per pound of paper needing to be shredded. The guide below can help you to approximate how many pounds of paper you have.
A ream of paper (2 inch stack of 8-1/2" x 11" paper  – about 500 pieces) weighs about 5 lbs
Standard letter-size file storage box, measures 10" x 12" x 15", weighs approximately 25 – 30 lbs
Standard Xerox letter size box which measures 10" x 12" x 18", weighs approximately 30 – 35 lbs
Long letter size file storage box, measures 10' x 12' x 24", weighs approximately 45 – 50 pounds
Legal-size file storage box, measures 10" x 14" x 24", weighs approximately 55 – 60 lbs
13 gallon white trash bag averages about 20 – 25 lbs
33 gallon black garbage bag averages about 35- 50 lbs
Mobile shredding services are typically ideal for bigger shredding jobs, but it is actually cheaper than taking them into a facility if you have more than a couple of boxes.  For any amount of paperwork up to three hundred pounds (approximately 10 boxes), you are looking at right around $100 for your home.
This infographic explains some of the benefits of mobile shredding: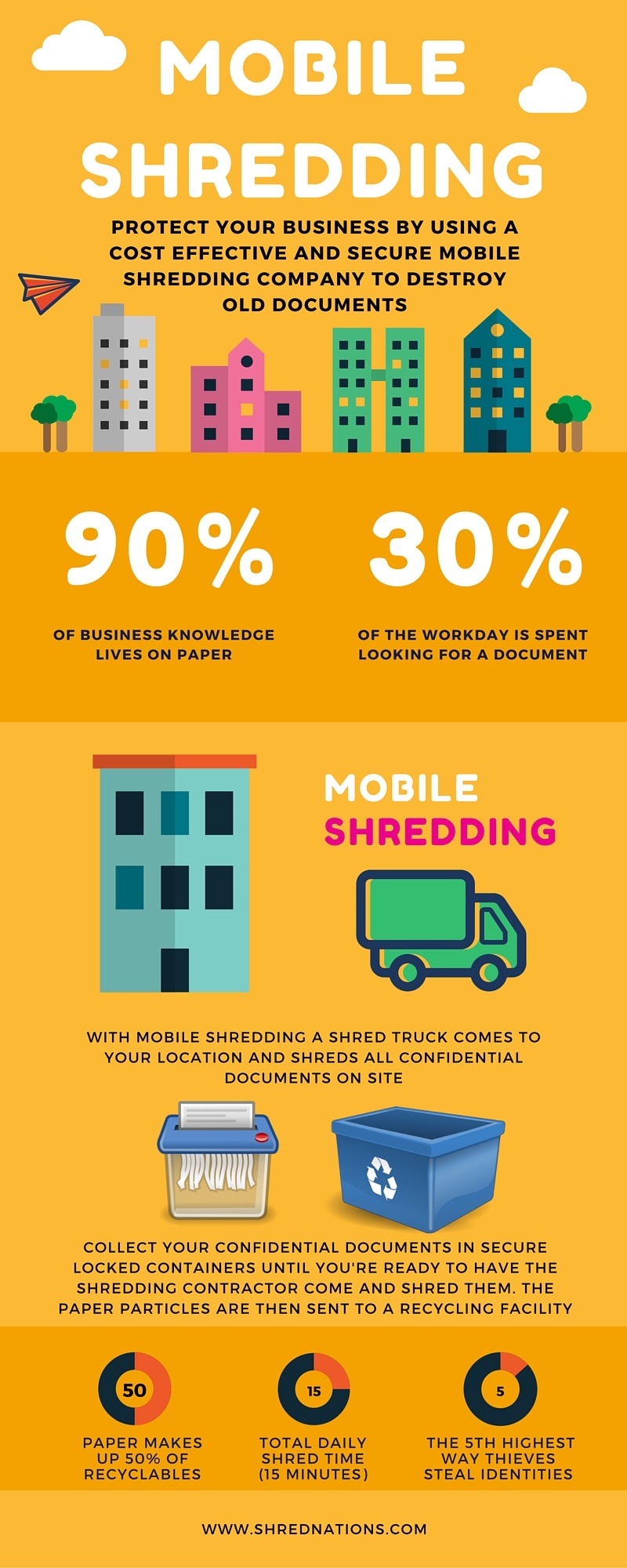 Steps in the Mobile Shredding Process
Here is the process you need to follow in order to have a local mobile shredding company shred your documents at your home or office
Submit a quote request by filling out the form on the right or calling Shred Nations at (800) 747-3365. After speaking to one of our experts, a mobile shredding company will contact you with a free quote for your project.
Once you decide on what company you feel fits your project best, they will provide you with a secure bin at your home or office.
When the locked bin is full with documents, contact your mobile shredding provider to set up a time to shred your documents.
Once you have reached the day of the appointment the mobile shredding truck will come to your office or home to shred everything in the bin. You can watch the entire process to make sure that all your documents are destroyed properly. We will never come in visual or physical contact with your documents.
Get Free, No-Hassle Quotes on Mobile Paper Shredding Today!
Shred Nations specializes in helping you find the mobile shredding contractor that's right for your business, regardless of the size of the job.  For a FREE quote and to locate a mobile shredder near you, fill out the form to the right, or give us a call at (800) 747-3365.
Within minutes of receiving your request, you will receive quotes from local mobile shredding contractors so that you can select the company that fits your project or your office best.