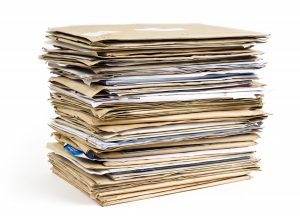 What does your business do with all of the excess documents that no longer need to be maintained? If they are past the required period of retention, and there is no need for you to refer back to these documents in the future, do you simply throw them away?
Tossing these papers into a trash bin can be a dangerous game. Fraudsters will stop at nothing to obtain any information that they are able to take advantage of, and neglecting to properly dispose of your confidential business files is also against the law. So rather than taking the chance, be sure to shred confidential information before you dispose of it.
What if you don't have the time to gather and transport the stacks and boxes full of paperwork to be shredded? The solution is easier than you think. A mobile shredding truck will come right to your doorstep and take care of the documents for you.
You Can Bring the Shredding Truck to Me?
Despite the convenience of an onsite shredding solution, the cost is more reasonable than you may think. The cost of mobile shredding can vary based on the size and difficulty of the project. Shredding pricing is roughly $100 per 300 pounds of paper. The guide below can help you to approximate how many pounds of paper you have.
How Many Pounds of Paper Do I Have?
The following are general guidelines for figuring out how much paper you have:
A ream of paper (2 inch stack of 8-1/2" x 11" paper  – about 500 pieces) weighs about 5 lbs

Standard letter-size file storage box, measures 10" x 12" x 15", weighs approximately 25 – 30 lbs

Standard Xerox letter size box which measures 10" x 12" x 18", weighs approximately 30 – 35 lbs

Long letter size file storage box, measures 10' x 12' x 24", weighs approximately 45 – 50 pounds

Legal-size file storage box, measures 10" x 14" x 24", weighs approximately 55 – 60 lbs

13 gallon white trash bag averages about 20 – 25 lbs

33 gallon black garbage bag averages about 35- 50 lbs
For more help with your estimate, try our shredding wizard.
What Do I Get With Mobile Shredding?
Mobile shredding is not only one of the most convenient ways to shred, it also saves time, provides security and creates a paper trail with a certificate of destruction.
Do you have an overwhelming volume of paperwork to be shredded? Compiling everything together can be quite the hassle, let alone taking however many trips necessary to transport everything to an entirely different location. Mobile shredding eliminates all of that. The truck comes to you and collects all your documents to be shredded. This helps save time and get the job done right away.
With other shredding services, you are not able to see your documents being shredded firsthand. Mobile Shredding is done on-site so that you can witness the destruction of your documents right in front of your eyes, giving you an even greater sense of security. 
Certificate of Destruction
The mobile shredding contractor provides you with a certificate of destruction to legally document the proper disposal of your confidential documents. This describes the details of your service, including where and when the destruction took place. This protects your business in case of an audit or other legal troubles.  
Get Free, No-Hassle Quotes on Mobile Paper Shredding Today!
Shred Nations specializes in helping you find the mobile shredding contractor that's right for your business, regardless of the size of the job.  For a FREE quote and to locate a mobile shredder near you, fill out the form to the right, or give us a call at (800) 747-3365.
Within minutes of receiving your request, you will receive quotes from local mobile shredding contractors so that you can select the company that fits your project or your office best.