Shred Nations Wausau Location
Shred Nations Wausau
607 S 24th Ave
Wausau, WI 54401
(715) 760-4450
wausau@shrednations.com
Hours:
M-F 9:00-6:00
Sat-Sun closed
Pricing:
$0.59 per pound
* Pricing is not guaranteed and is subject to change by the individual merchant
Secure Document Shredding Services in Wausau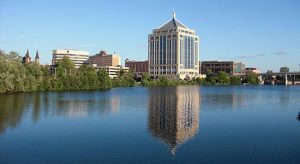 If you're a business or an individual, shredding confidential and personal documents is an important task and finding the right method is necessary. Shred Nations offers a variety of methods from mobile to off-site shredding, depending on the type of customer you are. You also have the option to witness the shredding and will receive a certificate of destruction for your records when the process is complete. You will be confident your private documents will not end up in the wrong hands.
Shred Nations is happy to help and proudly partners with shredding and hard drive destruction professionals in Wausau and its surrounding areas, providing business and personal shredding services for small and large projects. We offer many options to make shredding as convenient and affordable as possible. 

Wausau Document Destruction Services
Mobile shredding offers you complete peace of mind with secure shredding at your location anywhere in Wausau. 

Off site shredding is the most affordable option for large volume shredding projects. Shred Nations Wausau offers secure transport for your documents and quick, reliable destruction of private information.

Hard drive destruction is used to ensure the complete destruction of data stored on hard drives and electronic media.  

Shred Nations Wausau knows how important security is to your business. Protect your confidential information with one of our many trusted contractors. We will provide you with a personalized quote for shredding services that match your needs. Give us a call at (715) 760-4450 or fill out the form on this page to get started.
Relevant Laws and Regulations in Wausau
Wis. Stat. § 134.97 Disposal of records containing personal information: Explains the proper disposal of records that contain personal information. 

Wis. Stat. § 134.98  Notice of unauthorized acquisition of personal information: Describes the notice of any unauthorized acquisition of personal information.   

Health Insurance Portability and Accessibility Act (HIPAA): Healthcare industry guidelines that require proper destruction of patient files to ensure confidentiality.
The Gramm-Leach-Bliley Act (GLBA): Requires financial institutions to explain how they protect consumer information including the retention and destruction of records.
The Fair and Accurate Credit Transaction Act (FACTA): Protects consumers from identity theft with disposal requirements and limits on shared information.
Get Free, No Obligation Quotes on Shredding Services throughout Wausau
Within minutes we will provide you with personalized quotes from Wisconsin-based shredding companies. Fill out the form or give us a call at (715) 760-4450 for more information on our reliable shredding services.  

Shred Nations proudly serves these cities near the Wausau area:
Brokaw | Evergreen | Granite Heights | Kronenwetter | Marathon City | Mosinee | Ringle | Rothschild | Schofield | Sunset | Taegesville | Weston