Shred Nations Springfield Il Location
Shred Nations Springfield
3309 Robbins Rd
Springfield, IL 62704
(217) 303-8772
springfield-il@shrednations.com
Hours:
M-F 8:00-6:00
Sat 9:00-2:00
Sun closed
Pricing:
$0.50 per pound
* Pricing is not guaranteed and is subject to change by the individual merchant
Secure Shredding Services in Springfield, IL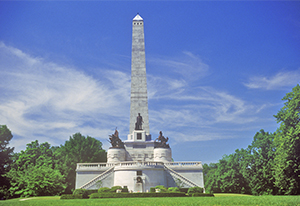 Springfield, IL is the capital city of Illinois. It is a city rooted in history, but with a progressive and business savvy energy.
It is best known as the home of President Abraham Lincoln. There are many popular, Lincoln-related sites to see in Springfield. Some are the New Salem Historic Village, the Lincoln Home National Historic Site, the Old State Capitol, the Lincoln Tomb, and The Abraham Lincoln Presidential Library and Museum. The city is also flush with Lincoln impersonators and has a statue of the whole Lincoln family.
Foodies will enjoy Springfield's unique culinary specialties like the Cozy Dog, a corn dog on a stick, and Horseshoe sandwiches, white bread covered in ham and topped with French fries and cheese sauce.
Springfield is a fun city with a little bit of something for everyone. Shred Nations is excited to partner with Springfield to provide reliable and secure shredding and hard drive destruction services.
Springfield, IL Shredding Services
Save time and money with mobile shredding. We come directly to you and shred on your curbside. Witness the entire process from start to finish and never question the safety of your private information.
No project is too large for offsite shredding. Tackle your to-do list, get rid of unwanted documents and let us handle pick up and transportation to an offsite shredding facility.
Not sure what to do with all those old laptops and smart phones? Hard drive destruction ensures that your data can not be recovered. We can destroy data of any kind of electronic device with our extensive shredding methods.
Begin your journey to an organized workspace with shredding and hard drive destruction services today. We have Springfield representatives standing by to answer your questions and connect you with local contractors. Give us a call at (217) 303-8772 or fill out the form to get started.
Relevant Laws and Regulations in Springfield, IL
Personal Information Protection Act: The act requires that any entity possessing personal information must notify Illinois residents of compromises in security or confidentiality.
Data Security on State Computers Act: The act requires that all state-owned electronic data processing equipment be properly destroyed when it is no longer in use.
Health Insurance Portability and Accessibility Act (HIPAA): The act covers record retention and destruction policies for the healthcare industry.
The Gramm-Leach-Bliley Act (GLBA): The act requires the financial industry to follow certain standards regarding the management and destruction of client information.
The Fair and Accurate Credit Transaction Act (FACTA): The act protects consumer information by requiring businesses to dispose of information securely and properly.
Get Free, No Obligation Quotes on Shredding Services throughout Springfield, IL
Shred Nations has been building a reliable network of shredding professionals for 30 years. We partner with companies who will provide high quality, secure shredding services. To connect with Springfield-based companies, fill out the form or give us a call at (217) 303-8772 and you will receive free quotes within minutes.
Shred Nations proudly serves these cities near the Springfield, IL area:
Bethalto | Bloomington | Canton | Chatham | Decatur | East Peoria | Godfrey | Jacksonville | Lincoln | Morton | Normal | Pekin | Peoria | Taylorville | Washington