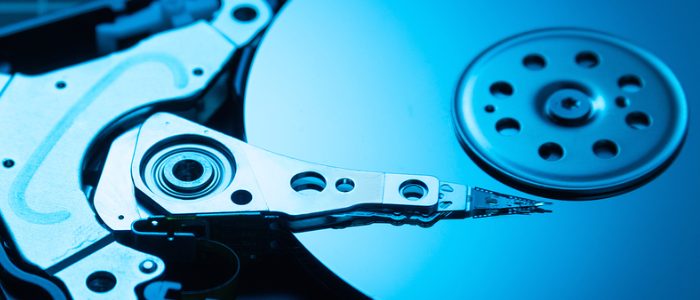 Thieves and hackers target electronic devices because many are not wiped thoroughly and simply thrown away. Destroy old hard drives with a company that specializes in hard drive destruction to protect your data from being retrieved and used maliciously.
Hard drives are high-capacity storage devices inside your electronics. They exist not only in your office computers but on many other devices. This includes copiers, printers, scanners, tablets, and smart phones. Old hard drives pose a security risk for individuals and businesses because they contain recoverable information.
Destroying old hard drives makes data completely irretrievable. This helps businesses remain compliant with privacy laws, protects business' reputations, and saves space and money. Hard drive destruction services help to ensure your information is safe.
Top Reasons to Destroy Your Old Hard Drives
1. Permanently Destroy Data

Data still exists on your hard drive even after deletion. When you delete a file, it's removed from your computer's directory. However, the right software makes recovery possible.
Common methods used to destroy data are degaussing and erasure. Degaussing uses a magnetic field to erase your information. Erasure overwrites your data. However, both methods can leave behind data that puts you at risk.
The physical destruction of your hard drive ensures the data is unrecoverable. During hard drive destruction, the drives go through an industrial-strength shredder. This obliterates them and turns them into thousands of pieces. Additionally, shredding is permanent, irreparable, and leaves no chance of data recovery.
Comparing the options, it leaves hard drive destruction as the most secure option when disposing of electronics.
2. Ensure Compliance and Avoid Fines
Professional data destruction companies are knowledgeable about laws, like HIPAA and FACTA, that apply to information protection. Sensitive information needs to be handled carefully and disposed of properly to comply with information security laws.
Once hard drive destruction services are completed, you will receive a certificate of destruction. The certificate provides details in the shredding process and verifies regulatory compliance. Violations of information security laws result in heavy fines for businesses.
3. Protect Your Reputation
Hard drives can have virtually an unlimited amount of private information inside them. If your hard drive were to fall into the wrong hands, the damage could be substantial. Moreover, some businesses never fully recover from a data breach.
Hard drive destruction keeps your private information safe and preserves the trust of your clients. A respected reputation of protecting consumers is invaluable to any business.
4. Save Space and Money
Stockpiling old computers and electronic devices is unsafe. Even equipment in secure facilities are vulnerable to data breach by physical theft, electronic breach, or skimming.
Holding on to devices also costs companies the unnecessary expense of storage. Additionally, destroying old hard drives allows you to free up valuable workspace for income generating activities and keep the cost of storage down.
You may want to "do-it-yourself" to destroy old hard drives, but completely destroying your information is more complex than you may think. The price of proper hard drive destruction is considerably less than the cost of a data breach to your company.
Find Hard Drive Destruction Services Near You
Shred Nations helps to find you secure, affordable hard drive destruction services. Additionally, we partner with a nationwide network of trusted providers that will help protect your business from a data breach today.
We will connect you with reliable contractors in your area. To receive your free, no-obligation quotes, fill out the form, give us a call at (800) 747-3365, or contact us directly using the live chat.