One of the most common causes of identity theft and data breaches stems from improper disposal of electronics like hard drives. When most people think of hard drives, they think of a desktop computer. However, businesses and individuals have learned hard drives are everywhere. Additionally, hard drive destruction has become a critical part in the data elimination process.
Just ask Affinity Health Plan, who paid a $1.2 million fine several years ago because the hard drives in their copiers still held PHI and other sensitive documents.
Why Shred Your Hard Drives?
Just like sensitive paper documents, digital data and documents pose a security risk for individuals and businesses.
Information protection and destruction laws, including HIPAA and FACTA, apply to hard drive destruction as well as the destruction of their hard-copy counterparts. Thieves can potential access, use, and take confidential information. Furthermore, this is why it's critical to protect your privacy and other important information.
Additionally, there are steep fines are associated with violations, and they are only getting more expensive:
HIPAA Noncompliance Penalties Over Time

Violations Prior to 2/18/2009
Violations After 2/18/2009
Penalty Amount
Up to $100 per violation
$100 – $50,000 (or more) per violation
Calendar Year Cap
$25,000
$1,500,000
Private information needs to be carefully handled. Additionally, this helps ensure no private information will be potentially leaked or lead to fraudulent behavior.
What Electronic Items Need to Be Safely Destroyed?
You should shred every hard drive and electronic device containing sensitive data. However, this can include many different types of devices:
Hard drives across devices (solid state/rotational/magnetic)
USBs or flash drives
Zip or floppy disks
SCSI drives
Magnetic tapes
Audio visual media (CDs/DVDs/VHS tapes/cassette tapes)
CPUs
Mobile devices (cell phones/tablets/laptops/PDAs)
Gaming systems
Televisions
Credit and debit cards
X-rays
Badges
Microfilm and microfiche
Backup tapes
RAM and ROM-based storage
Biomedical devices (infusion pumps/MRI and CT machines/ventilators/ultrasound devices)
Any system or device that at any time contained private information
If you are ever unsure, it's important to go ahead and destroy it anyways. Also, it's better to be safe and protect the necessary information.
Additionally, never recycle electronics without properly destroying the information on them first. Electronics should be recycled rather than thrown in the trash, but the information on them must be destroyed first. Thieves target electronics dropped off at the recyclers because they often still have valuable information on them.
How to Safely Dispose of Electronic Data
There is an extraordinary pressure from legal authorities and the general public to scrupulously maintain organizational security.
When it's time to get rid of an old hard drive, there's a few different ways to go about removing information, including:
Option 1: Formatting Hard Drives
This consists of formatting the hard drive and wiping it clean of all stored data.
Additionally, this issue is the right software can restore the information completely.
Option 2: Degaussing Hard Drives
Degaussing hard drives consists of using magnets to create an electromagnetic field that leaves the information on a hard drive unreadable.
Additionally, the issue with degassing hard drives is the machinery to perform the process makes degaussing fairly expensive.
Option 3: Hard Drive Destruction
Hard drives can be physically destroyed using hard drive destruction and shredding services.
This consists of using an industrial shredder able to handle heavy-duty projects. Hard drives and electronic media are shredded and broken into thousands of pieces.
Unlike with formatting or degaussing, complete hard drive destruction leaves zero chance for digital data recovery. This is because the device becomes a pile of tiny fragments. Additionally, the tiny pieces are then recycled in compliance with EPA standards.
How Do Hard Drive Destruction Services Work?
Moreover, hard drive destruction is one of the most common and secure options for businesses and individuals to use.
Leaving personally identifiable information (PII) on media and hard drives is risky. This is why it's important to destroy the information properly. Hard drive shredding is a fool-proof means of security.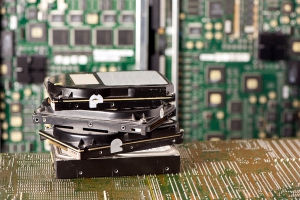 After deciding on a hard drive destruction provider, our partner companies can come to you to pick up materials and devices for your convenience. However, you can ship them to the secure shredding facility as well.
Once your hard drives and media are collected, they're destroyed using industrial shredders. In addition, all locations are compliant with EPA and state hazardous waste laws and regulations.
Once the hard drive destruction process is complete, your provider will send you a certificate of destruction. This details the chain of custody for materials during destruction as well as where, when, and who did the shredding. Also, a certificate of destruction guarantees the use of best practices and compliance with HIPAA and FACTA.
Do You Need Hard Drive Destruction Services? Shred Nations Is Your Solution
Hard drive destruction services are one of the most secure ways to safeguard critical digital documents at a reasonable cost.
Shred Nations partners with a nationwide network of hard drive destruction and shredding providers. Additionally, we help connect businesses and individuals providers who can handle their project size, budget, and schedule.
To request a quote, fill out the form on your left, give us a call at (800) 747-3365, or contact us directly using our live chat to get free hard drive destruction quotes from providers near your home or business.