When it comes to shredding your paperwork, every project is different.  Whether you are looking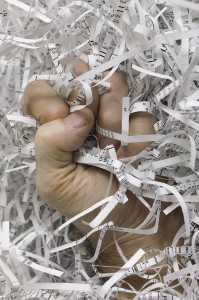 into shredding business documents, personal paperwork, or helping set up a shred event, there are going to be different needs for every project.  What is the cheapest way for you to get your documents destroyed?
Drop off shredding is one of the newest, most convenient ways to get your paper shredding taken care of.  This can also be one of the cheapest ways, depending on how much paperwork you have.  When you find a drop off location in your area that takes your paperwork you essentially bring in your documents and drop them off so that they can have their contractor come and shred everything at once.  Typically their shredding contractor will come out once every couple of weeks.  Drop off locations charge right around a dollar per pound, but every location is different.  If you have a box or two of paperwork you are looking at around thirty to sixty dollars.  Each box of paper when it is full weighs right around thirty pounds.  This is a very cheap alternative to having a mobile service come to your location, if you have a small amount of paperwork.
If you have more than just a couple of boxes it is going to be much cheaper to have a mobile shredding company come to your location.  There is typically a minimum fee that covers six to ten boxes (depending on location, business, or home) that is right around $100.  If you have four boxes of paperwork, you are already saving money by using a mobile service as opposed to taking it to a drop off location.  You also want to consider the fact that a mobile shredder will come to your location for you, and you get to watch everything being destroyed right in front of you.  The peace of mind that comes along with seeing your documents get destroyed can outweigh the price difference to some.
If you are looking into document destruction, these are a couple of options that should be able to help make sure that your paperwork gets destroyed properly!