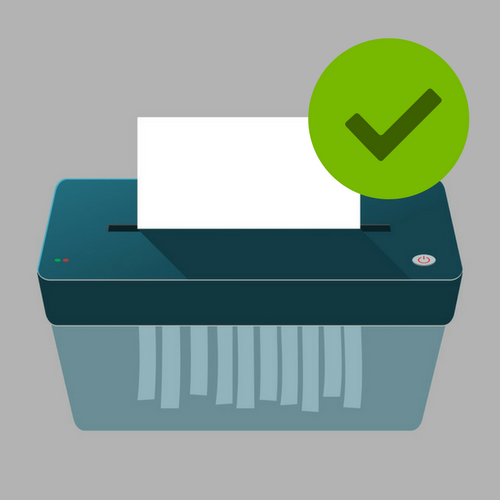 The importance of keeping your private information safe cannot be overstated. Whether it's protecting your personal information to avoid the increasing threat of identity theft, or protecting your business information to maintain your reputation and comply with privacy laws, information security should be a top priority. Document destruction services ensure that confidential information remains secure.
Document shredding, on a small or large scale, is one of the best and easiest ways to prevent information theft and keep your private information safe.
Document Destruction for Information Protection
---
A document destruction program can prevent data loss and identity theft. With a reliable document destruction service, your files and documents are carefully shredded, eliminating the risks associated with data security loss. You can even set up regularly scheduled destruction services so you can pre-schedule your shredding.
Remember: Anything placed in the public trash is considered public property per the Supreme Court. Make sure to properly destroy any documents that contain private information.
Secure Document Destruction Services
---
Depending on the service you choose, your destruction service can be performed on-site while you watch, or handled by professionals off site. Whichever service you decide is best for you, a certificate of destruction is provided which details the time and location of your document shredding process and ensured chain of custody.

Get Free Quotes on Document Destruction Services
---
Whether you have a small box of papers or an entire room full of documents, our certified shredding partners provide you with high-quality destruction services to keep your private information out of the wrong hands.
Shred Nations offers free, no-obligation quotes through our nationwide network of document destruction services. To get started, simply give us a call at (800) 747-3365, fill out the form on this page, or contact us directly with our live chat. In just minutes, you will receive free, personalized quotes from top professionals in your area who are ready to take on your document destruction needs.