Mobile shredding gives the opportunity to watch your paper be securely shredded at your curbside. A shred truck equipped with an industrial shredder comes to your location, and the documents are loaded into the shredder.
Rather than taking them in or shredding them yourself, mobile comes to you, making it not just a cost-efficient option, but also a convenient one.
Watch the video or read the transcript below to learn more about the benefits of mobile shredding and how it stacks up against other shredding options.
Video Transcript
Mobile Shredding In 4 Simple Steps
Place Shred Bins
Place the locking shred bins provided by your shredding provider around your office or home.
Store Papers for Shredding
Over time as documents accumulate, use the bin's slotted top to place and store papers for shredding.

Schedule Mobile Service
Once the bins are full, schedule a day for a shred truck to come to your location. If you frequently need to shred, regularly-scheduled shredding is available.
Witness Your Shredding
On the scheduled date, the truck arrives, and like a garbage truck, it lifts the bins up and into the built-in shredder. Once the shredding is finished, you will get a formal certificate of destruction with details like where and when the shredding was done.
Mobile Shredding Cost Breakdown
Mobile shredding is a fixed cost service, typically running around $100 and ideal for shredding projects as large as 300 pounds.
Other shredding methods often come with additional costs, but mobile services come with no strings attached and actually include other benefits for free. These include providing the locking shred bins used to securely store your papers as well as the certificates of destruction to provide proof of secure shredding.
Mobile Shredding's Flat Fee
While the costs of other scanning options scale upward with how much you have to shred, mobile shredding has a flat cost of roughly $100 for up to 300 pounds of paper (around 10 boxes).
Mobile shredding costs can be affected by factors like distance, but compared to options like DIY or drop-off shredding, it eliminates extra costs ranging from shredder repair and maintenance to time, space, and the cost of the shredder itself.
Pricing Comparison
Other options like DIY or small-scale drop-off shredding include costs which when added together can make shredding more expensive. For example, if you have 50 employees making $16.50 per hour who shred for just 2 minutes per day and 300 pounds over the course of one month: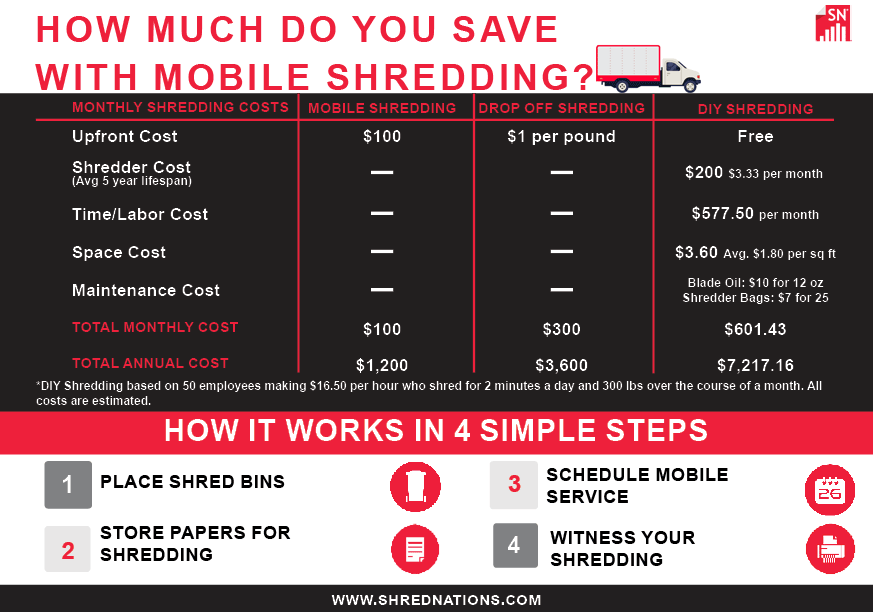 Am I Trading Anything for the Low Shredding Cost?
While many cost-saving strategies can be give-and-take, mobile shredding's advantages extend beyond its initial benefit of cost efficiency with the help of things like witnessed shredding, certificates of destruction, and regularly scheduled shredding.
Are Security & Convenience Covered By Mobile Shredding?
You're primarily searching for the cheapest shredding available, but there might still be other concerns on the back burner such as:
Security

Because the mobile truck spends the time to shred at your location, you can personally watch the full shredding process and how your materials are handled.

Besides witnessing shredding at the curbside, mobile shredders also provide formal certificates of destruction to provide proof of compliance with laws like HIPAA.

Convenience

With mobile shredding coming to your location to shred the documents, you can cut down the shredding process to minutes instead of hours.

Rather than spending time shredding yourself, you only need a short break to handle your shredding. With regularly-scheduled shredding also available, it only gets easier.
Searching for the Cheapest Shredding Available?
Shred Nations is partnered with mobile shredding providers all across North America. To get started finding the mobile shredding service nearest you, give us a call at (800) 747-3365 or fill out our form for a free no-obligation quote.