Paperwork is one of the most hated parts of any profession, yet there can be many problems that can result from poor management and destruction policies.
These days, just about every business uses a document shredding service to come by and take care of their destruction needs. Companies have weighed the risks associated with improper destruction and concluded that it is cheaper and more secure to utilize a shredding policy instead of burdening their employees with choosing which papers to shred and which to dispose.
But not all papers are sent to the shredder or recycling bin and many important files must be retained for future use and recordkeeping. With that in mind, how should you handle your document storage for these files. Really, there are only two options:
Storing documents on-site may seem like the most convenient option, but comes with risks of data leaks, losses due to natural disasters, and inability to effectively scale over time.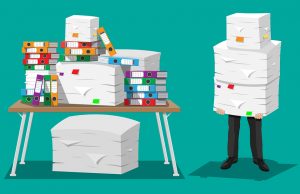 Document Retaining and Disposing
As mentioned above, some documents should be shredded while others maintained. Any records, files, contracts, and other paperwork containing important data that may need to be referenced in the future must be saved. Documents that were printed to display information but won't be needed again can safely go into the shredding bin.
While this may seem like a simple guideline, the line between whether a document needs to be used again or not can be difficult to assess. For reference, these are papers that should be saved:
Financial documents

Purchasing and bookkeeping documents

Personnel or client documents

Government and tax documents

Insurance documents

Information regarding your business operations
What is Offsite Document Storage?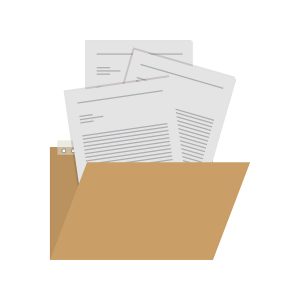 Paperwork can quickly overrun a busy workplace making the management of these files more difficult and susceptible to legal implications from improper handling. Even with labeled folders, filing cabinets, boxes, storage closets, and so on, the longer your business is running the more complicated it all becomes.
Offsite storage facilities takes the trouble of storing your documents in-house and takes it into their hands. Benefits of record storage services include:
a climate-controlled environment that is suitable for paper materials to avoid degradation

surveillance from security guards, 24 hours a day

massive amounts of storage space

on-demand document retrieval, so that you can get your documents when you need them
Most offsite storage facilities also offer document shredding either at their location or with a partnered shredding service. This is useful for destroying any files that are past their required retention period directly from the storage service.
Is Offsite Storage Right for You? Let Shred Nations Help!
If you want to optimize your record management system while keeping your documents safe, let Shred Nations help. With our extensive network of offsite storage service providers with decades of experience, we can find the right professionals for you.
To get your free, no-obligation quotes on record storage facilities near you, give us a call at (866) 385-3706 or fill out the form on the right. In just minutes, you'll have multiple quotes from providers in your area.