Shredding your private files is an excellent way to keep your sensitive information safe, and these days it's a necessary part of life.
When it comes to shredding your papers you have a variety of options. Buy a small home shredder, hire a professional service to stop by and shred your files, or even use a pair of scissors to manually chop up your papers.
Here we will guide you through the rental vs purchase decision, providing the pros and cons of each and who is best suited for each option.
Purchasing a Shredder
Buying your own shredder makes the shredding process convenient because you can feed your files through whenever you need to. There is no scheduling or waiting on a shredding company to send their truck over.
Purchase Pros
You pay a one-time fee

You get a machine you can use multiple times

You can shred your files whenever you want without scheduling with a contractor

If you just have a few files to shred it is much faster
Purchase Cons
A good quality shredder is expensive—cross-cut shredders are necessary to ensure security

Home shredders often jam up and break down

Regular maintenance of your machine (lubrication, etc.) is required

Home shredders can only handle a couple of papers at a time

Home shredders are slow with the high quality cross-cut shredders being extremely slow

You will have to manually remove all staples and clips

You will have to clean up stray paper shreds
Who is best suited for a shredder purchase?
If you shred small volumes of paperwork occasionally (a few pieces of mail a week, statements/bills once a month. etc.) purchasing a personal shredder might be a good option.
Determine how often you will use your shredder and how powerful/reliable you would like it to be.
Be prepared to spend at least $100. While you can buy a shredder for less, you will be getting a machine that will break down often and only be capable of shredding one or two papers at a time, which gets frustrating fast. Strong, reliable, cross-cut shredders can cost thousands of dollars.
Shredder Rental
Renting a shredder means a shredding truck visits your location to shred your files on site while you watch. Once the shredding is done the truck drives off with the paper shreds contained in the back.
Rental Pros
You don't have to do any of the work, including prep work (removing staples etc.)

If you have pounds of paperwork it is extremely fast (shredding 100 pounds a minute)

It's secure

There is no clean up

The more files you have, the cheaper it becomes

You can have your shredding regularly sheduled
Rental Cons
It can be expensive for small volumes of paperwork

You will have to schedule a time for a contractor to visit your location
Who is best suited for a shredder rental?
Rented shredders, often called mobile shredders, can shred up to 30 boxes of paperwork. If you quickly accumulate files or store your files before you shred them, renting a shredder will be your best bet.
If you don't want to purchase and maintain your own shredder, do prep work like rip out staples, or clean up any shredded messes, having a shred truck stop by is an effective alternative to shredding yourself. It's completely self contained and you get to watch the entire process for added security.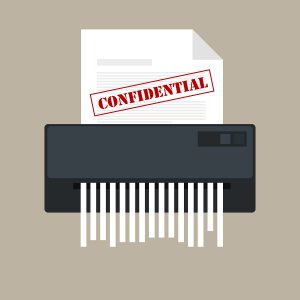 As you decide how to destroy your files keep in mind the ultimate goal—protecting your private information.
However you choose to secure your information (even if it means reaching for the scissors), make sure the job is thorough. Dealing with a stolen identity can mean years of unnecessary recovery work. Taking preventative measures now is the best way to protect your sensitive information and save yourself a headache down the line.
Let Shred Nations Help You Protect Your Private Information
Shred Nations knows the importance of protecting your private information, be it personal or business related. We partner with certified, secure document shredding companies across the nation to help connect people in need of secure shredding to the best shredders in their area.
Call us today at (800) 747-3365 or fill out the form on the right to get a free estimate on what your shredding project will cost. When you are ready to shred your files, we will connect you with local professionals to get the job done quickly and safely.