Your computer hard drive is like a best friend that you can share all your secrets with. Countless hours are spent searching the web, checking bank accounts, working on projects, or even storing documents, photos, or messages containing confidential information.
After an extended period of time, you may decide to move onto a newer, sleeker hard drive with more features and faster speeds, leaving that old friend behind.
The good news is, hard drives don't have feelings and yours won't hold a grudge against you.
But herein lies the real problem:
Your old hard drive still remembers all your secrets and information that you've shared over the years.
Erasing your files and deleting your browser history won't be enough. In fact, even wiped hard drives still have a chance to be reformatted by crafty computer hackers to retrieve some (if not all) of the data.
There are even 3rd party programs you can simply download from the internet that are specifically designed to recover lost files from wiped hard drives.
IdentityTheft.info reports that 15 millions residents of the United States are victims of identity theft every year!
Your private information contained on your computer is just the tool that cyber criminals and identity thieves look for.
Destroy Your Files for Good!
As previously mentioned, erasing your files on your hard drive isn't enough to guarantee your information is safe.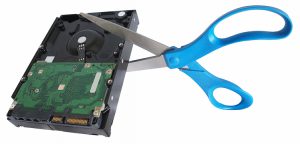 So what is the guarantee?
Hard drive shredding is your solution.
That's right—you have to physically rip apart and shred your hard drive to make sure that it cannot be used in the future. This also goes for all electronic media devices, including:
USB drives

CD's, DVD's, and disks

Laptops

Digital cameras

Memory cards

Smartphones

Tablets
However, manually shredding these items is no easy task.
On the bright side, there are companies out there who specialize in properly destroying these devices and recycling the remains for you.
In this video, you'll see the power of heavy duty shredders and their capability to rip apart and destroy just about any type of electronic media device.
Hard Drive Shredding Near You
Hard drive shredding companies aren't exactly the most well-known category in data protection. Luckily, finding a reliable shredder near you is made easy with Shred Nations.
Shred Nations is partnered with top local professionals that shred your documents and electronic hardware all across the nation. We work to find you the best shredders at the lowest prices.
Get free, no-obligation quotes in just minutes by filling out the form on the right or giving us a call at (800) 747-3365.