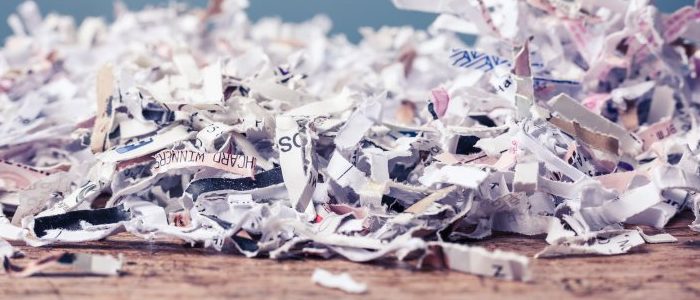 Surprisingly, the junk mail you receive at home contains a lot of information which can be useful for identity thieves to obtain. However, shredding documents can help you stay protected against identity thieves.
By getting your name and address, thieves can find ways to obtain other confidential data. This includes your bank account information and social security number. Additionally, this can allow them to take advantage of your identity and steal your finances.
Unfortunately, the number of identity theft incidents are increasing every year with a record number of 15.4 million victims in 2016. Criminals are able to open up loans, credit cards, and bank accounts under your name. Additionally, this not only takes your money but also ruins your credit score.
This usually is unnoticed by the victim until they try to open up another line of credit. However, it's usually too late.
Shredding Documents to Prevent Identity Theft
Without proper disposal of papers, it's at risk for exposure. Document shredding can eliminate the risk of exposing confidential information. Additionally, proper destruction will prevent criminals from obtaining this information in the future. Any files that have personal data should be shredded.
To avoid becoming the next victim, it's important to properly destroy any documents containing personal information you no longer need. Additionally, this includes envelopes, flyers, and other mailers.
The video below details which documents you should be shredding before tossing them into the trash.
Video Transcription
Before getting rid of old paperwork, remember to shred the following documents:
Receipts
Junk mail
Tax forms older than 7 years
Credit and bank account statements
Any other documents containing information such as your name, address, phone number, birth date, social security information, financial information, children's personal information, etc.
Don't forget to shred any old electronics when throwing them away. A hacker could obtain this information unless the device is adequately destroyed.
What Are the Shredding Options
There are a few options when it comes to shredding your documents. Additionally, it depends on your specific project on which method is best.
Mobile Shredding
Schedule a mobile shredding truck to come directly to you. They will shred your documents at the curbside while you watch.
Off-Site Shredding
Have your papers picked up and taken to an off-site facility for shredding. This is ideal for larger projects because the more shredding you need the cheaper it gets.
Drop Off Shredding
If you have documents to shred but not enough o schedule a service, then drop off shredding is perfect. Walk in to a facility to drop off your papers. There is no scheduling needed, and they will shred your papers for you.
Renting or Buying Shredders
Another option you have is to rent or buy a shredder. A major disadvantage is the time it takes to shred. While this ideal for smaller projects, you then have to dedicate a person to shred the papers. This could end up costing a lot of time and time equals money.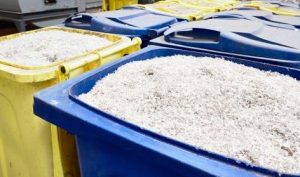 Depending on the amount of paper you have, some types of shredding services will be more affordable and a better fit than others.
Mobile Shredding: 3-10 boxes which is around 90 to 300 lbs costs around $119.
Off-site Shredding: 10+ boxes which is over 300 lbs costs around $100 per bin.
Drop Off Shredding: 0-3 boxes which is up to 90 lbs costs around $1 per lbs.
Make sure you thoroughly evaluate your project before committing to a method. Because it's important to pick the best option, so it saves you money and hassle.
Contact Shred Nations for Your Home Shredding Needs Today
Recovering from identity theft can be costly and time-consuming. It's critical to not let a thief take advantage of your identity, privacy, time, and money. No matter your project size, Shred Nations can connect you with a shredding contractor right in your area.
To get started, fill out the form, use the live chat, or give us a call at (800) 747-3365. Afterwards, you will receive a free, no-obligation quote and then select the best option for your needs.