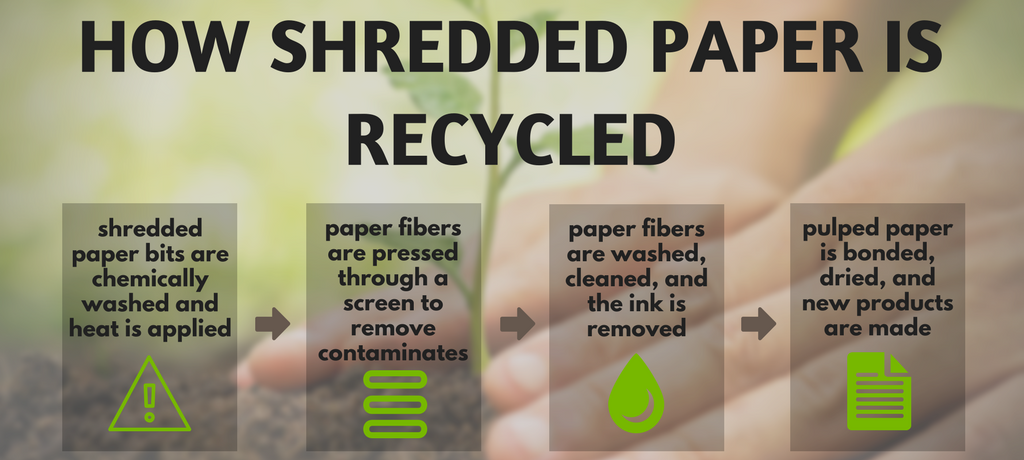 The individual who is both safety conscious and environmentally conscious faces a conundrum: what to do with shredded documents.
Many people don't realize that you can't easily recycle shredded paper bits. Shredding old files is a necessary precaution for individuals and businesses looking to protect their personal and confidential information, but if you want to keep it green, it presents some obstacles.
Most residential recycling centers won't accept shredded paper. According to Waste Management, residential shredded paper should not be placed in recycling bins.
All paper waste, shredded or not, should have a chance to be recycled.
Why Your Shredded Paper Bits Won't Be Recycled
So why exactly won't your paper bits be recycled? The main reason is simply that home and office shredders cannot produce a volume of shredded paper that makes the effort of recycling it worth it.
Plus, when you do send loose paper scraps to a recycling center, they typically end up on the floor and make their way into the normal trash anyways.
How Can I Recycle Shredded Paper?
If you want to ensure your shredded bits are recycled, use a third-party shredding company! Shredding companies produce a large enough volume of paper shreds to make recycling them viable. Plus, their shreds are completely uncontaminated and they bag or bale it, making it easy for recyclers to manage.
This quick video explains how using a shredding service vs. shredding at home can help you keep your private information secure while keeping the environment healthy:
Shredding services are not only a viable option for businesses. There are a variety of shredding options available, so even lone individuals can find a service that is affordable for smaller amounts of papers.
Businesses may find mobile shredding or offsite shredding services a convenient way to purge large amounts of paperwork. But individuals and households can participate in a local shredding event, or drop off small quantities of paper to be shredded at a secure drop off center in the neighborhood.
The bottom line is if you want to protect both your information and the environment, shredding services are your best option.
Get Free Quotes on Paper Shredding Services Near You
Shredding your old files is an excellent way to keep your private information safe. If you want to keep your information safe and keep the planet healthy and clean, shredding services are your perfect solution.
We partner with local shredding companies across the nation who cater to the shredding needs of both individuals and businesses. To learn more about shredding service opportunities near you, call us at (800) 747-3365 or fill out the form on the right.
We will ensure you are matched with a shredding service provider who will safely shred your materials, and responsibly dispose of them.