Over the years, advancements in technology have streamlined multiple aspects of our everyday lives. However, with these advancements comes the ever-increasing risk of experiencing a data breach.
Fraudsters and identity thieves are taking advantage of every opportunity they can find to get their hands on the personal information of other individuals. They are able to use as little information as someone's name and address to start receiving benefits not owed to them.
Because businesses are required to maintain an extensive amount of both company and client information, they are often a major target for hackers. A successful hack can yield the personal data of hundreds, thousands or even millions of clients.
What Do You Have to Lose?
The repercussions that result from a data breach can become detrimental to the future of your business. Let alone the fines that will accrue—the hours that must be dedicated will quickly add up, and your company's reputation will suffer as well in order to come to a final resolution.
Here are some numbers that will give you a better idea of the extent of these consequences: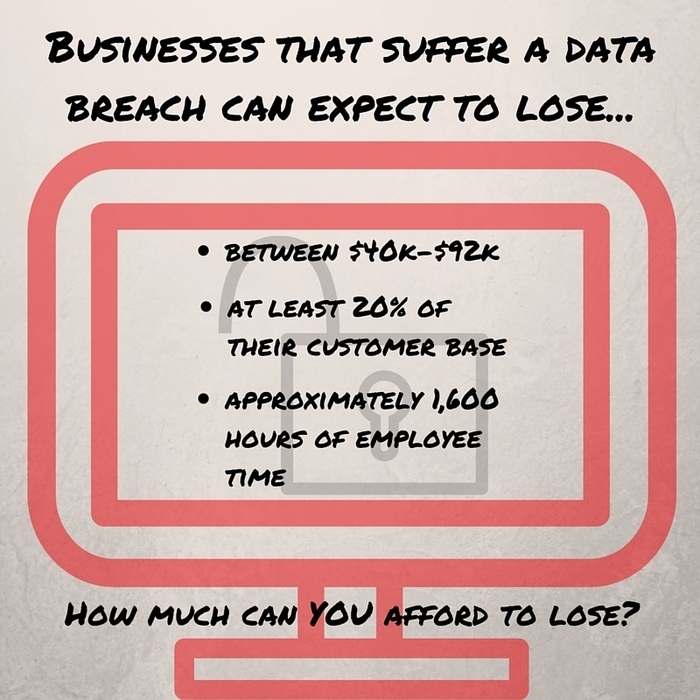 Aside from the fines that can already add up to almost $100,000, it is also likely that you will lose a fifth of your recurring customers and hundreds of hours of your employees' time that will need to be accounted for on top of everything else.
Even if you think you can afford the initial costs of a data breach, the hit that your company's reputation will take (which could be even bigger depending on the industry you are in) will have a major long-term effect on your future profits.
Whether you run a small business or a large corporation, you are at risk of becoming the next data breach victim. Don't allow your business to suffer—contact Shred Nations for tips from our experts on safeguarding your company data.
Is Your Company Adequately Protected Against the Threat of a Data Breach? We Can Help!
Is your business vulnerable to hackers and identity thieves? If you're worried that your business information is at risk, Shred Nations can set you up with data protection professionals across the nation.
Ready to get started? Just fill out the form to the right or give us a call at (800) 747-3365, and you will receive free quotes from multiple contractors in your area.
Don't leave your business's or clients' personal information open for someone to steal—regardless of your needs, Shred Nations will connect you with reliable and compliant information protection specialists so that you can maintain your company reputation.