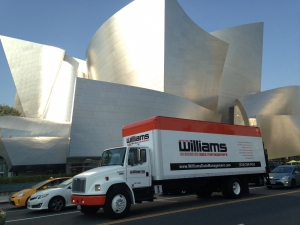 At Shred Nations, our strength is built on working with network partners who excel to the top of the shredding industry and offer the security that sensitive documents and information demands, but with the high-quality experience that leaves clients feeling like they have received superior service.
This July, we honor Williams Data Management—a valued Shred Nations Partner since 2012—as an ideal example of such a company. Serving the Southern California Region with document shredding solutions, Williams Data Management's mantra is: Your Data. Protected.
In business to protect your data, Williams Data Management is all about their client. They work each and every day to exceed the expectations of the businesses they serve by getting to know how data management plays a role in their fundamental and complex business operations. It is with this fine-tuned understanding and customer service that has led Williams Data Management to the positive relationships and reputation they have today.
Learn more about how their skills, resources, and lengthy experience has helped them to exceed the standard shredding expectations of their clients, and what Williams Data Management is currently doing to set themselves even further ahead of their competition.
Why Did They Get Into the Shredding Industry?
Operating in the Records and Information Management space (RIM), means Williams Data Management is relied upon to handle clients' most sensitive information.
While shredding is one aspect of the chain of custody, Williams Data Management is able to assist their clients with their data management from inception to disposition. As a result, they provide solutions at each step throughout the records lifecycle—including destruction by NAID-certified shredding.
How Long Have They Been in Business?
The Williams family has been in business since 1922. The original company was formed as a transportation company. In 1983, their transition into the Records Management industry came about.
As the years passed, other service offerings have formed as well. Williams Data Management now offers a full RIM program, providing services such as offsite records storage, data and media vault storage, document imaging, mobile document and hard drive shredding, online back-up, and RIM consulting services including business continuity consulting and Information Governance programs.
What Is Their Business Philosophy?
Williams Data Management's business philosophy is imperative to the way they operate. While they strive for excellence and efficiency in everything they do and every service they provide, it can be simplified down to three essential values:
Treat Clients and Employees Like Family
Delivering on these three core principles results in living up to Williams Data Management's mission to leave Every client satisfied—Every time.
How Has the Business Changed Over the Years?
First and foremost, from analog to digital, the RIM perspective has changed. Digitalization (electronic document management) is now the origin media. Although hard-copy remains active and is still used in business, Williams Data Management's digital business is growing quickly.
Second, Williams Data Management is seeing an increase in the scheduled mobile shredding services side of the business. Individuals and businesses alike are very cognizant of identity theft and the multiple data breaches which have occurred in recent years. They want to make sure they are taking every measurable step to protect PHI and PII, for both personal information and company data alike.
Finally, Williams Data Management is seeing a large increase in shredding purge business, which has evolved from two causes: ROT (Redundant, Obsolete, and Trivial Information) has the potential to have stored information discoverable for litigation from data which should have been destroyed years ago, and people and businesses are now highly aware to have a retention and destruction plan and policy in place.
What Is Their Shredding Specialty?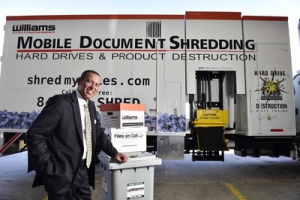 Williams Data Management has recently repurposed one of their existing RIM vehicles into a mobile hard drive shred truck. The truck now carries an Amerishred HDS-750, and is able to destroy up to 1,200 hard drives per hour.
Williams Data Management specifically outfitted the truck as a fully functional mobile office with a Genset 110v inverter, work desk, GPS, Wi-Fi, as well as scanner and laptop hook-ups to perform the operation to governmental certification requirements.
What Makes Williams Data Management Unique?
Williams Data Management's company is unique for a very fundamental reason: relationships. They focus on building relationships not only internally with each other, but also with their clients. Williams Data Management prides themselves on their availability and overall service when it comes to client satisfaction.
Most Williams employees have been team members for ten years or more, allowing those relationships to cultivate on more than just a B2B level. Everyone is available 24/7, including their CEO Douglas Williams, who always answers his cell phone. In today's business landscape, these rarities are what set Williams Data Management apart.
Interested in Williams Data Management's Level of High-Quality Customer Service? Get Your Free Shredding Quotes Today!
At Shred Nations, we understand the value and importance of connecting our customers with secure shredding providers who are well-equipped to safely handle your sensitive files and documents. If you find yourself in need of shredding services in the Southern California area, we have countless shredders like Williams Data Management who can help securely meet the needs and budget of your home or business.
To get started with scheduling a shredding provider for your next project, just give us a call at (800) 747-3365, or simply fill out the form to the right of your screen to request free quotes from shredding providers near you!