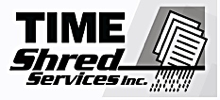 Shred Nations prides itself on working with network partners who provide outstanding customer service to customers.
We strive to connect with shredding companies who can not just provide the reliability and security document shredding needs, but who also give their customers a sense of receiving superior services.
A valued Shred Nations partner since 2012, this month we honor Time Shred Services as an ideal example of such a company. Time Shred is a leading provider of document shredding solutions to the New York, New Jersey, Winchester, and Long Island areas, offering their customers complete customization of the services they provide.
Find out how their abilities, resources, and experience help them to exceed standard shredding expectations, and what Time Shred is doing to set themselves apart from their competition.
Why Did They Get Into the Shredding Industry?
Time Shred Services has worked in the document storage business for nearly a half-century. As requests for document destruction services have continued to grow from document storage customers, it was only logical to add document shredding and destruction services to their business.
How Long Have They Been in Business?
Time Shred's document shredding and destruction services started in 2006 with a single shredding truck. Today, their fleet has grown up to eight shredding trucks and two shredding plant base locations for large-scale shredding.
What Is Their Business Philosophy?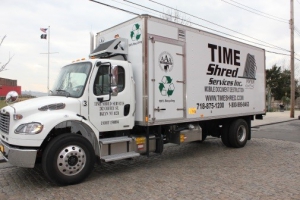 Service, service, service. Time Shred Services makes the shredding process simple and informative for their customers from the moment Time Shred receives the inquiry to the time their shredding truck arrives at the customer's curbside to perform the shredding service.
Time Shred strives to ensure that on the first call they are able answer all their customer's questions—providing them pricing and scheduling for their service, as well as assistance with choosing the ideal shredding service for their needs.
How Has the Business Changed Over the Years?
Time Shred Services originally began with only one shredding truck and a philosophy based on listening to customers and concentrating to meet their needs. The valuable information and feedback they have received from their customers has and still continues to help make Time Shred both a better company and shredding service.
One of the most valuable comments they received early on was from a customer that told a truck driver, "The reason I choose you is because on the first call, you explained everything to me, gave me a price, and I was able to schedule my shredding service for when I needed it."
That single comment helped to form Time Shred Services' business model and continues to guide their business today.
What Is Their Shredding Specialty?
Time Shred prides itself on their ability to provide same day, next day, and Saturday shredding services as a true benefit for their customers.
What Makes Time Shred Services Unique?
Of all the document shredding and destruction services they perform, one third of their new business comes from customer referrals—serving as a true testament of the high-quality services they provide to their customers.
Does Time Shred Services Sound Like the Level of Customer Service You Need? Get a Free Shredding Quote Today!
At Shred Nations, we recognize the importance of connecting you with secure and reliable shredding contractors for your sensitive documents. If you are looking for document shredding services, we have a shredding provider who can help to meet the individual shredding needs of your home or business.
To get started with scheduling a shredding company for your project, just give us a call at (800) 747-3365, or simply fill out the form to your right to get free document shredding and destruction quotes from providers in your area!