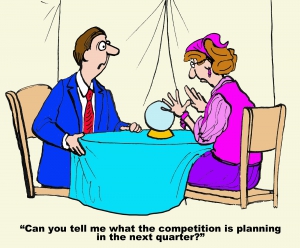 Although images of James Bond may flash through one's mind after hearing the word spy, corporate espionage isn't quite the same type of surveillance. While there are no bombs to diffuse, bullets to dodge, or speeding sports cars involved, the impact of corporate espionage on a company can still have the same earth-shattering impact to an unsuspecting business owner.
Unlike identity theft—where instead the primary target is usually the personally identifying information of a single individual—corporate espionage(CE) involves the secretive and oftentimes illegal act of a company using surveillance in order to gain leverage over their business competitors.
From someone planting an employee within your company to steal proprietary information to diving through company dumpsters or bugging your systems—it's all corporate espionage. To avoid it happening to you, it's critical to keep up to date on modern vulnerabilities to corporate espionage as well as the best ways to prevent it.
Industries Most Affected by Corporate Espionage
In a world where we are almost constantly connected via internet, the term corporate espionage might immediately bring thoughts of malware and computer hacking to mind. It may come as a surprise though that the history of corporate espionage dates as far back as the manufacturing secrets of the 18th century.
Industries built on modern technologies for their time—such as automobiles, energy, and manufacturing—have long been the target of corporate espionage. When corporate espionage was in its fledgling years, the manufacturing process for Chinese porcelain was revealed to all of Europe after Father Francois Xavier d'Entrecolles spent weeks studying their methods.
Similarly, in the midst of the industrial revolution in England, French competitors used espionage tactics to bring British technologies across the Channel by placing French apprentices in England to gain knowledge of manufacturing methods.   
Today, industries like biotechnology, software, and aerospace must be wary of similar tactics, as their proprietary properties are not only highly adaptable to competitors—as with software or manufacturing processes—but also because larger companies can be more easily infiltrated.
Patsies, or "moles", being hired to work as insiders who penetrate competitors in order to obtain sensitive information or practices are often used as tools for corporate espionage. In 2009, hospitality company Hilton hired ten former executives from competitor company Starwood, who were used to download numerous confidential Starwood documents for use by Hilton.
Even when combing through applicants for company positions carefully using background checks, risks for corporate espionage are not limited by personal infiltration. Massive digital companies including Google have fallen victim to corporate espionage through hacks into their software, as made evident by the story of the 2010 Chinese cyber-attack now known as Operation Aurora.
So as you now turn to managing your own business documents and personal records, the true question becomes, how can you protect yourself from falling victim to corporate espionage?
Protecting Your Business From Corporate Espionage
Although no business should live without concern for the possibility of corporate espionage given the PR-crippling impact of an espionage or data breach scandal, companies that deal in confidential and proprietary information must remain particularly vigilant.
To help ensure you have all your bases covered, here are some of the best ways to protect yourself from the clutches of corporate espionage:
Set Up Regular Shredding Services: 

With a

shredding service

—whether mobile or at an offsite shredding facility—your documents are securely shredded on a regular basis as opposed to sitting around the office just waiting to fall into the wrong hands.





Using a shredding service instead of shredding your business records

in-house

r

e

d

u

c

e

s

the threat of a lower-level employee spying and stealing information for a competitor—a mole will never even have the chance to steal what they will not shred.  
Invest in Thorough and Absolute Destruction of Electronic Media: 

Improving technology not only means that new ways of penetrating digital media emerge each day, but also that new technology is constantly appearing to replace

old fax machines, computers, and other electronics.





For business owners, this is quite a dangerous combination, as corporate spies have now found ways to remove decade-old images from the discarded photocopiers  that many businesses have unknowingly tossed in a dumpster in favor of newer technologies.





To combat this, business owners must take steps to ensure their digital media is unrecoverable, ranging from using accredited software or data erasure tools, to hard drive degaussing and physical destruction—all of which are provided by Shred Nations

electronic media destruction

services.
Double and Triple-Check Your Protection: 

Although you can take a ton of pressure off your business using secure document shredding and destruction services, you still have a responsibility to ensure that the services you employ are secure themselves.





At Shred Nations, our shredding contractors offer each of our customers a

Certificate of Destruction

upon completion, which guarantees that the service you received was both

FACTA and HIPAA

compliant.





Before scheduling your service, double-check that your provider is

NAID AAA Certified

, which ensures that the shredding company takes all necessary steps to keep your confidential material secure through all stages of its destruction.
Get Free, No-Obligation Quotes on Secure Shredding and Information Protection Services
Corporate Espionage and other forms of information theft cost companies millions each year—and sadly, that won't be ending any time soon. Shred Nations specializes in connecting companies with shredding and electronic media destruction services who can offer sound strategies and help to manage and minimize your own company's potential risk for corporate espionage.
Whether you're in need of document shredding services—both mobile and offsite facilities—or need to focus on reinforcing your digital defenses with electronic media destruction and disposal, Shred Nations is your one-stop solution!
For more information on any of our available services, simply give us a call at (800) 747-3365, or just fill out the form to your right for a FREE quote today!  
Additional Resources
Protecting Your Company Against Fraud & Theft—In an technology-driven world, corporate espionage isn't the only threat for business owners to be wary of. Between fraud, identity theft, and data breaches alone, there are more reasons than ever for companies to take a second look at the vulnerabilities of both their hard-copy and digital document systems.
Ten Things Corporate Spies Don't Want Shredding Contractors to Know—Although corporate espionage ranges from your competitors spying on your clients to your competitors actually spying on you, as a business owner you must be sure to safeguard against it. Luckily, Shred Nations has this handy list of the ten things corporate spies don't want you to know to help get you started.
Prevent Fraud With Proper Document Management—While identifying and eliminating your external information security threats is a step in the right direction, it's important not to forget about what you can do within your company to help protect yourself. This article provides tips and measures you can take internally to improve your information security.