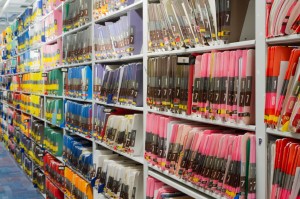 With the changes in legislation for retaining and destroying of medical records, it's become an important task to ensure that your practice has a plan in place, and that your employees understand what to do with and how to store this very private information.
As the American Health Information Management Association (AHIMA) mentions in their post on Retention and Destruction of Health Information,
"It's important to ensure the availability of timely, relevant data and information for patient care purposes; to meet federal, state, and local legal requirements; and to reduce the risk of legal discovery, organizations must establish appropriate retention and destruction schedules."
To ensure that your practice is protected, you need to be sure that your entire office is following proper procedures that are outlined in your document retention plan. This is where this post can really help you. It clearly defines the life cycle of records retention, various regulations and requirements, and recommendations for medical records.
At Shred Nations, Medical records destruction is our forte. We shred records for the following types of practices (and more):
Family Medicine
Emergency Medicine
Internal Medicine
OB/GYN
Neurology
Pediatrics
Covered Entities
Business Associates
We can get you a quote for all of the medical records shredding you need within minutes. To get started, fill out the form on the right, or give us a call at (800) 747-3365.