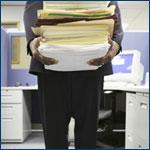 Developing a document retention policy is tremendously important for any business.  It provides a clear path to managing your documents, and gives you peace of mind that your company is on the right path to complying with federal and state laws.
We have laid out all the different records retention periods here, but understanding what documents you need to retain and for how long you need to keep them is just the first step.
The next step you have to take is to develop a plan for managing these documents, and determine what procedures and processes you need to put into place to ensure your employees understand it.
Take a look at this Guide to developing a Document Retention Policy from the NFIB.  It helps you understand the importance of document retention, and steps that you can take to create a solid document retention policy.
Shred Nations can help you with your document retention and destruction policy.  If you have any questions, or would like to get more information, fill out the form to the right, or give us a call at (800) 747-3365.