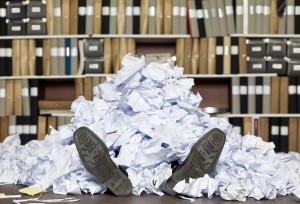 What does it take to shred your documents at your office?  Is there really a significant difference compared to hiring a secure shredding company to come and pick up your documents or shred them on-site?
There's a lot of debate on which one is more beneficial to your company.  We weigh in on the costs of shredding documents internally here, and even discussed the risks of in-house shredding on our blog this week.
Our perspective has always been that you save time and money, decrease risk, and increase security by hiring a shredding company for your documents.
There's a lot of hidden costs involved in shredding documents- and it usually causes more issues in the long-term than it solves.  That doesn't mean that you should hire a shredding company- you need to do your research and figure out what works best for your business.  That's where this blog post can help you.
Here's another perspective on the costs of shredding documents internally, and why it might make sense to look at on-site or off-site shredding company.
Please note that the prices and approximate costs included below vary greatly depending on the size and scope of your project, the number of employees and cost of your shredding equipment, and legal requirements or regulations of your industry, city, or state.
Shred Nations can help you find a local shredding provider
Let us help you minimize the risk of shredding your important documents internally.  Shred Nations provides secure document shredding services through a network of providers in locations nationwide. Our providers offer comprehensive quotes within minutes for your document shredding and recycling project so that you don't have piles of documents set aside for shredding every month.
Fill out the form on the right or give us a call at (800) 747-3365 to get free quotes today!