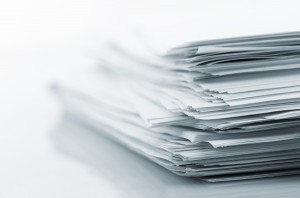 There are a few different ways to get your paper shredded and with each of them, there will be a separate pay scale.  Depending on the size of your project, and the provider that you go through, this is the average rate for paper shredding depending on the type of service you choose to go with.
Drop Off Paper Shredding – When you choose to go with a drop off location, the majority of facilities will charge right around $1 per pound.  This is a very fair price and if you have one box (which is roughly around 30 pounds), it would only cost you $30 to have all of your documents destroyed.
Ship N Shred – This is a similar alternative to drop off paper shredding services because it is right around $32 per box.  Using this service you won't have to deliver your paperwork to a facility though.  Your documents will be picked up from your location and shipped off to be destroyed.
Mobile Shredding – Using a mobile shredding service you are allowing yourself to not only have the paper shredding service come to you, but you also will be able to watch your documents being destroyed.  This is typically a service for bigger shredding jobs, but it is actually cheaper than taking them into a facility if you have more than a couple of boxes.  For any amount of paperwork up to three hundred pounds you are looking at right around $100 for your home.
All of these figures of course vary depending on the provider you choose to go through, but these figures are pretty accurate for most locations.  No matter what shredding needs you may have, there is always a solution to fit what you are looking for!