Put your gnarly boots on, because we're gettin' shredded this weekend!  One of our very own, Zach Rawles is a professional snowboarder and this weekend on Saturday, September 27th, he will be competing in the Hot Dawgz & Hand Rails snowboarding competition on Bear Mountain.  The course will actually bring in 140 tons of snow in order for the snowboarders to be able to complete the course.  If he wins (which we're hoping he does ;)) he will be getting $10,000.  This is the fourth year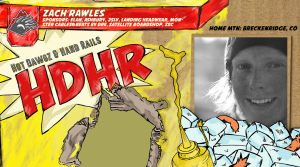 in a row that Zach has participated in this competition.
Zach has been snowboarding for the last fourteen years, and started professionally about five years ago.  Since then he has had the opportunity to snowboard in Switzerland, Chile, Sweden, Norway, and Canada.  He was raised here in Breckenridge, Colorado which is why he was able to get his feet in a snowboard at such a young age.  For being only 25 years old, Zach has managed to make a pretty nice dent in the snowboarding profession.  His father is actually going to be the new head coach of the Chinese Olympic ski team!
Zach is one of our top shredding sellers here at Shred Nations, and he is one of the top snowboarders competing!  If you're looking to keep tabs on Zach and see just how killer his shredding moves are, you can check out the live feed of the competition this Saturday on snowboarder.com.