Did you know that shredding your documents is actually better for the environment than just throwing them away?  This is assuming you recycle after you shred, or you go through a shredding company that recycles their shredded paper.  When considering having someone else shred your paperwork it is very important to find out what they do with the paperwork after they shred it.  Not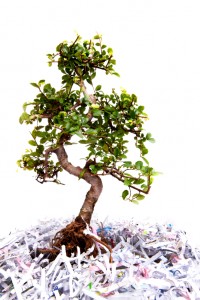 only is recycling better for the planet, but it also helps make sure your already shredded documents are more secure.  In the process of recycling paper, all paper is put into a vat that separates ink from the actual piece of paper in order to turn it into mush and create a new type of paper.  By getting rid of the ink on the paperwork it makes it even more secure than just shredding it, which is why almost all companies automatically recycle!
By shredding one ton of paperwork (that gets recycled) you are saving about nineteen trees on average.  I know one ton of paperwork sounds like a lot, but it adds up very quickly.  Every office is different, but say that each office had one ton of paperwork a year to dispose of, and say that there were one million offices across america.  Right there that is 19 million trees!
Recycling your paperwork doesn't just save trees though.  You are also helping lower air pollution, reducing landfill space and saving water!  If everyone recycled all of their paperwork instead of throwing it away, we could make a huge difference in our planet together!