When you use a shredding service to properly dispose of your daily and secondary records, your shredding service provider will provide you with a locked shredding bin. You simply place your documents into the shredding bins and they will come by and shred it on a schedule. There is an endless variety of sizes that are offered but the most common sizes are below:
Executive Console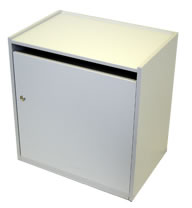 For offices, the first choice is usually the executive console. It is generally a gray laminate wooden cabinet. It fits into most decores and offers a flat top that can be used for additional storage space. Dimensions are height: 40″ width: 19″ depth: 19″. It holds around 100 pounds (roughly three file boxes) of paper. They are generally placed near the printer or in public areas.
64 Gallon Bin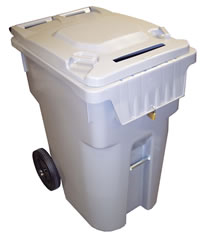 Best described as a trash can with a lock, the 64 gallon shred bins might not be the best looking option but it is the most cost effective. It holds around 210 pounds (roughly seven file boxes) of paper. Dimensions are height: 40″ width: 23″ depth: 30″. It has the convenience of wheels and is generally placed in mail rooms or where customers are not likely to be.
Under Counter Bin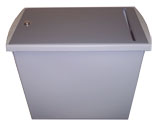 These are great for placing in individual offices. It adds the security to the cardboard box that many people already maintain uder their desk. Dimensions are height: 18″ width: 12″ depth: 20″. It holds around 25 pounds (roughly one file box) of paper.