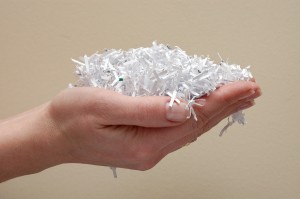 Document shredding services are important to any business that has sensitive or classified information on paper that could compromise identities, business dealings, or state secrets.
It's important to use document shredding services to properly destroy the documents so that they do not fall into the wrong hands or end up being part of a massive data breach.
Shred Nations provides secure document shredding services for individuals, businesses and government agencies throughout North America. Use our mobile shredding services to have your shredding done right in front of your eyes, or have a truck come and pick up your paper and shred it with our off site shredding service.
Steps in Shred Nations' Offsite and Mobile Shredding Processes
Shred Nation's shredding process is extremely convenient:
Submit a quote request to Shred Nations by filling out the form to the right or by giving us a call at (800) 747-3365. In a few minutes, a local shredding company will contact you to provide you with free quotes for your project.
Select the company that fits your budget and project best- then, the shredding company will provide locked bins for your location.
Fill up the bins with all the documents that you need shredded, and then contact your shredding provider to schedule a time to shred them, or have them picked up.
Once your bins are full, a shredding truck comes to your location and shreds everything in your bins, or picks up your documents to shred the files at a secure location.
You can watch the entire shredding process and ensure your documents are destroyed. We will never come into physical or visual contact with your documents.  All of Shred Nations' document shredding services come with the proper certificate of destruction when the job is complete that provides proof that the inventoried documents were properly destroyed and cannot be recovered.
Get Free, No-Hassle Quotes on Document Shredding Today!
Shred Nations specializes in helping you find the shredding contractor that's right for your businesses regardless of the size of the job.  To get started, fill out the form to the right, or give us a call at (800) 747-3365. Within minutes of receiving your request, you will receive quotes from local shredding contractors so that you can select the company that fits your project or your office best.