Owings Mills Paper Shredding Services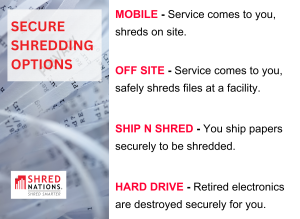 Keep your information and your documents safe with Shred Nations Owings Mills today! We can match you with secure paper shredding services for your home or business anywhere in Maryland. Data breached and identity theft are on the rise. Let Shred Nations Owings Mills assist you in locating the most cost-effective local document shredding services that are right for your project. Our goal is to help safeguard your privacy and maintain the integrity of services by connecting you to secure shredding providers in your area.
Our trusted service providers in Owings Mills offer flexible scheduling options to accommodate your specific requirements. Whether you require a one-time purge or regular services, our providers can cater to your needs. By using their secure services, you can ensure the protection of your confidential data and mitigate the risks associated with unauthorized access or data breaches. Shred Nations can help dispose of both your documents and electronics securely and quickly!