Shred Nations Englewood Nj Location
Secure Shredding Services in Englewood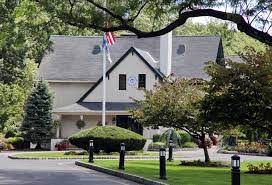 Privacy regulations mandate businesses to safely dispose of personal and private information to protect the consumer. Shredding is an approved method of destruction that not only safeguards consumer information, but protects your business as well. 
Shredding is a simple destruction method that cuts your documents or media into tiny pieces, making it unreadable and indecipherable. Your valuable data is protected because it cannot be recovered and misused. Your information will remain confidential; preventing identity theft, fraud, and leaks of information. 
Contact Shred Nations Englewood by calling us at (201) 297-6493 or filling out the form. We will instantly connect you to reliable shredding providers in your area. Our providers are certified and secure, ensuring proper handling of your data. We look forward to serving the residents and businesses of Englewood with our superior shredding solutions.
Englewood Shredding Services
Mobile shredding takes place in one of our mobile shred trucks. They come directly to your location, empty your shred bins, and complete your shredding at the curb. You will be able to witness the entire process and return to your day within minutes.
Offsite shredding is completed at an offsite shredding facility. We will pick up your documents and safely transport them to the facility. When they have arrived, they will be quickly destroyed and prepped for recycling.
Hard drive destruction is a shredding service for electronic media. We take apart your devices, remove the hard drive, and shred it into tiny pieces. This protects your data from being recovered and properly disposes of electronic materials.
Relevant Laws and Regulations in Englewood
Destruction of Public Records Law (1953): Requires documents to be destroyed using appropriate and evidenced methods after the required retention period.
Identity Theft Prevention Act: Prevents personal information from leaking and being misused by requiring proper disposal methods and notification when there has been a security breach.
Health Insurance Portability and Accessibility Act (HIPAA): Sets guidelines for the medical industry concerning the proper management and disposal of private health information.
The Gramm-Leach-Bliley Act (GLBA): Empowers the consumer by requiring financial institutions to inform clients how they handle private information.
The Fair and Accurate Credit Transaction Act (FACTA): Prevents identity theft by requiring businesses to protect and properly dispose of personal information. 
Get Free, No-Obligation Quotes on Shredding Services throughout Englewood
Shred Nations has been in the shredding industry for more than 30 years. We are experienced in helping individuals and businesses with information protection projects large and small. Please contact us by calling (201) 297-6493 or filling out the form to begin services in your area. Our providers will contact you within minutes.
Shred Nations proudly serves these cities near the Englewood area:
Bergenfield | Dumont | Edgewater | Fort Lee | Hackensack | Little Ferry | Maywood | New Milford | Palisades Park | Ridgefield | Ridgefield Park | River Edge | Teaneck | Tenafly | Yonkers