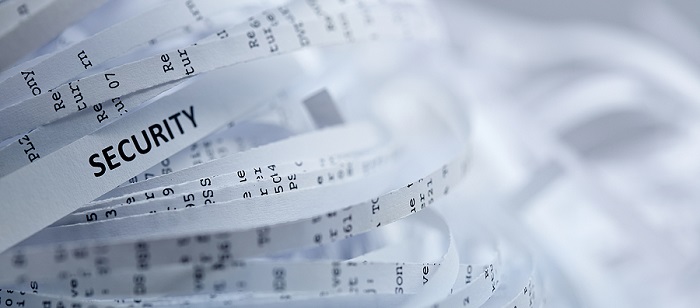 While the main purpose of shredding is security, when it comes to the different individual ways to shred, there are a variety of give and takes that make some options more cost-efficient, but not as secure as mobile shredding.
Learn more in the video or transcription below about the different specific steps taken during mobile shredding to make it the most secure shredding option, including things like providing formal certificates of destruction, offering witnessed shredding, and using locking shred bins.
Video Transcription
Maximum Security with Mobile Shredding
Defining Mobile Shredding
With mobile shredding, the shredding provider supplies you with secure locking bins for your office where you can collect papers and other materials before shredding.
Then when you're ready to have your documents shredded, a mobile shredding truck comes out to your home or office to shred the documents while you watch.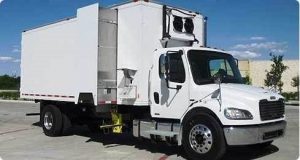 Mobile Shredding's Security Advantages
Stretching from the ability to personally watch the shredding to being given locking shred bins to collect materials before shredding, there are multiple aspects of mobile shredding that make it the most secure option for shredding.
The different security steps that are taken with mobile shredding include:
Witnessed Shredding
Just like it sounds, with witnessed shredding services, individuals are able to watch the entire shredding process themselves.
In mobile shredding's case, it offers the security benefit of you being able to watch from your curbside as the materials are destroyed by the shredding truck.
Certificates of Destruction
Certificates of destruction are formal documents provided as the final step in the shredding process.
A certificate can be used as proof of compliance with document retention and destruction requirements for laws like HIPAA and includes a variety of details that prove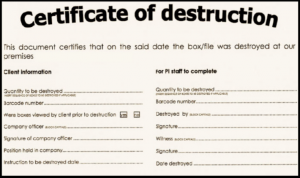 every step of the shredding was secure, including:
Shredding date and time
Shredding location
Shredding witness names
Chain of custody details from the initial disposal to final destruction
A unique serialized transaction number for audit trails.
Locking Shred Bins
To help keep things secure between session, mobile shredding providers give you a locking shred bin to collect paperwork and other materials for shredding
Like the one-way slots on mailboxes, shredding bins also have a slot used to drop documents into the container where they can be securely stored until the next scheduled visit from the mobile shredding provider.
Shred bins also come in multiple sizes to match your shredding volume ranging from small personal shred containers (PDC) to large shredding carts and totes.
Zero-Contact Shredding Trucks
Building on the security benefit of shred bins always being locked, with mobile shredding when those bins are emptied into the truck's built-in shredder, it requires zero contact from the workers who operate the truck.
Mobile shredding trucks work similar to garbage trucks where rather than dumpsters, large mechanical arms are used to lift shred bins up and into the shredder, in turn letting both you and the shredding employees watch from the curbside while the documents are destroyed.
Is Security Your Number One Shredding Priority?
Join companies like Coca-Cola and Bloomingdales as well as countless other individuals who we've helped to find nearby mobile shredding providers to handle their document destruction when you visit us at Shred Nations today.
To be connected to service providers in your area for free, no-obligation quotes, fill out the form to the right, use the live chat option, or give us a call at (800) 747-3365.