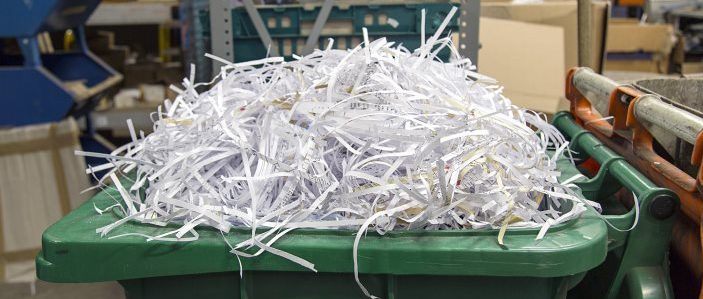 Mobile shred trucks are designed for optimal security and convenience. They drive to your location where a professional handles the shredding right at your curbside.
Once there, they haul your documents to the industrial shredder in the back of the truck. You get to watch the shredding process, and the shreds are driven away to be recycled by the service provider.
In general, the process is straightforward. However, have you ever wondered exactly how the paper is shredded? What shredding method is used and how small the paper shreds are?
It can vary depending on the type of mobile shredding service you order, but the most common method of shredding in shred trucks is pierce and tear. Getting to watch as the shredding is done is another benefit. This is because it adds an additional layer of security that is only available with mobile shredding services.
What Is Pierce and Tear Shredding?
Pierce and tear shredding is one of the most secure methods for shredding paper. Shredders that use this method of shredding are configured with several rotating blades that pierce the paper and tear it apart.
Two alternately rotating shafts that grab and pull materials towards the center of the shafts to pull them down and destroy them. This method creates small, roughly shredded bits of paper, rather than long strips that could potentially be put back together.
Industrial strength shredders use the pierce and tear method of shredding. This is because it offers the highest level of security, is fast enough to shred thousands of pounds of paper per hour, and bulky items can be thrown in and effectively destroyed.
What Are Different Methods for Shredding Paper?
Pierce and tear shredding is one of the most common and secure shredding methods for large-scale, industrial strength shredding. However, there are other ways to shred paper.
Common Shredding Methods (From Most to Least Secure)
Pierce and Tear – The most secure method, pierce and tear shredding is quick, produces tiny shreds, and can tackle paper, cardboard, clips, and more. This method is reserved for large, industrial shredding machines.
Particle Cut (Micro Cut) – Particle cut shredding machines use fine-tooth blades to "grind" paper and produce very small paper bits that cannot be reassembled. This is a highly secure method and equipment capable of this type of shredding is very expensive.
Cross Cut (Confetti Cut) – Providing a step up from strip cut shredding, cross cut shredders use both vertical and horizontal blades to cut paper into diamond shapes with a maximum shred size of 160 mm2.
Strip Cut – This is the least secure shredding method. and it's used by most small home and office shredders. This cuts documents into parallel strips that. However, even on the narrow end of the scale, they can be put back together quite easily.
Pierce and Tear Shredding Provide More Premium Protection
While the pierce and tear method of shredding commonly found in mobile shred trucks is highly secure, this is not the only security benefit:
Witnessed Shredding – Through the mobile service, individuals are able to witness the shredding occur. Some compliance restrictions require to witness the shredding, so it's the perfect options for those individuals. In addition, it helps individuals feel more confident about their shredding when they are able to witness it.s
Certificate of Destruction – After the service is complete, individuals receive a certificate of destruction. This is a foal documents which shows the time and place where the documents went through destruction. This is for personal and legal records.
Limited Contact – Because of the mobile aspect, there is minimal contact with the documents themselves. The employees don't have to touch the papers because the shred truck manually lifts them up into the shredder.
Find a Secure Mobile Shredding Service Provider Near You
Shred Nations partners with hundreds of secure shredding service providers across North America. We have helped over 1,000,000 homes and business find the best shredding service for their needs.
To start the process, fill out the form to the right, use the live chat option, or give us a call at (800) 747-3365. Afterwards, you'll receive a free, non-obligatory quote from providers near you.