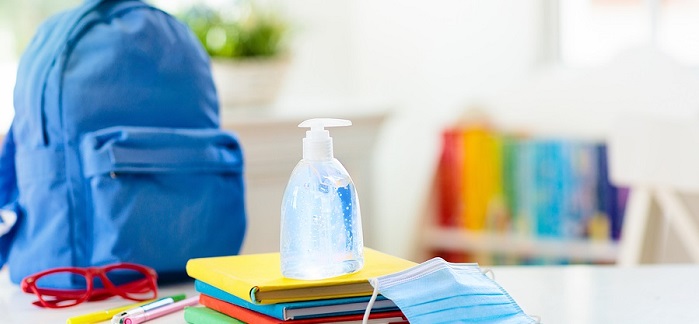 At a point in time where many schools are having to adopt a "school from home" system in order to try and limit the spread of the COVID-19 virus, many parents are now also having to step up and play a larger role in their child's education.
Among other things like gathering school supplies, parents also need to be able to help with the logistics of organizing and keeping track of all their student's schoolwork and other documents.
Learn more in the video or transcript below about the current issue parents are now facing while their child is "going to school" from home, as well as a solution for how parents can make managing their child's paperwork as painless as possible.
Video Transcription
School From Home Means More Responsibility for Parents
In the midst of coronavirus concerns and steps being taken to minimize its impact, an increasing number of schools are having to shift towards a school-from-home type of system.
As a result, this requires parents taking up more responsibility in their child's education, and among other requirements like making sure students stay focused throughout the day, parents now also have to organize and keep track of their child's schoolwork and other papers.
Problem: How to Stay Organized & Efficient | Solution: Combining Shredding & Scanning
After converting their kitchens into mini classrooms, many parents want to try and hold onto all their children's school papers; however, those documents can quickly start to stack up.
Considering the amount of space and work required to keep those paper copies organized, one more efficient alternative is to stop using paper altogether and opt for digital documents with day-forward scanning instead.
By taking up an all-digital approach and combining scanning with shredding, a document is destroyed immediately after it's converted, as a result minimizing the amount of potential paperwork parents have to deal with while at the same time greatly increasing their level of organization and efficiency.
Day-Forward Scanning: What Is It and How Does It Help?
To be more specific, "day-forward scanning" is a system for managing and storing documents where as soon as a paper document is created or received, it's promptly scanned and shredded so it can be used in a digital format.
Day-forward scanning gets its name from when the system is actually implemented—when the day arrives you first scan all of your already-existing paper, and then from that day forward you'll scan and shred everything as soon as possible. Benefits of day-forward scanning include:
Save Space: While hard-copy school paperwork requires devoting large areas of space in your home just for storing school documents, a 1 TB hard drive that's the size of your hand can hold up to 65 million document files.
Improve Organization/Efficiency: Besides being considerably smaller, digital documents can also be searched for by keyword rather than searching for and refiling paper copies by hand, and when you need more copies you can simply right-click, copy, and paste rather than printing out a second paper copy.
Stay Secure: When it comes to things like report cards and other student paperwork, the last thing you might think of is security; however, it's important for parents to remember that you don't have to be a legal adult to have PII—like names and addresses—stolen and for identity theft occur.
Day-Forward Scanning: How the System Works
(Backfile) Conversion for Existing Paperwork
Before anything, on the actual day you plan to go all-digital, any paperwork you already have is scanned entirely so that as you implement day-forward scanning you won't be building from the ground up with your digital records management system.
Shredding Old Paper Copies
After scanning all the papers, it's important they're shredded because on one hand if you try to hang on to paper copies you give thieves two places to steal info from, and on the other hand if you throw them in the trash without shredding you're taking a big gamble no one will find and misuse them. Luckily though, when you use a scanning service, one of the greatest advantages is how they often shred what you scan for you as part of the service.
Scanning & Shredding Copies Immediately
Finally as time passes and the school year moves on, any time there are paper documents like report cards, disciplinary files, or financial information they're always scanned and shredded immediately after.  From this day forward, so to speak, you can call yourself paperless.
What's Your Plan for Managing Paperwork During School at Home?
Join the countless other parents who we've helped with shredding and scanning their child's documents for school when you visit us at Shred Nations today. For free, no-obligation quotes, fill out the form to the right, use the live chat option, or give us a call at (800) 747-3365. You will be connected to service providers in your area.