During the current situation, there is a desire and urgency to stay home and stay safe. However, there is still an importance for data protection. We are in a unique situation where individuals are confined to their homes to remain safe during uncertainty. While this is critical to remaining safe, individuals and business still require data protection services.
Now more than ever, business need to stay protected from data thieves and criminals. It's important to continue to protect company information as well as personal data. Shredding services are a secure way to ensure complete destruction of data. At this moment, Ship 'N' Shred services are the perfect solution during quarantine.
What Are Ship 'N' Shred Services
It's not always the most convenient to drop off boxes to shred. However, data protection cannot be put on the back burner. This is why Ship 'N' Shred is a perfect solution for shredding needs.
Ship 'N' Shred is a unique service where you send off your documents to be shredded. This service limits the work you have to do while ensuring the safety of your information.
By not properly destroying documents, there will always be a risk for data exposure for company and personal information. This is why shredding services are an ideal match. In addition, all shredding services are secure and follow compliancy laws. This includes HIPAA and FACTA. Additionally, this ensures your data will remain secure and eliminate the risk of any exposure.
While employees are at home, this means confidential information could be all over the place. It's critical to eliminate all documents after you're done. Ship 'N' Shred can be done at any location. This makes document destruction even easier than before.
How Ship 'N' Shred Works
Ship 'N' Shred is a paper shredding service where you box up the papers, and the boxes are picked up and brought to a secure, off-site facility. Because you box up your papers, this allows the service to remain contactless. This is safe option for individuals who still need shredding services during this time.
Additionally, Ship 'N' Shred is a safer option than drop off shredding because of the ease of pickup. You no longer have to go out to drop off your boxes. In addition, the process could not be any easier for you.
Pack It:
Find a sturdy box for your material. It can be new or used. Additionally, you can find a box at local post office or moving supply stores. However, you can always use a box you have lying around. Just keep in mind small file boxes hold 30 lbs and medium boxes 60 lbs. A xerox paper box will hold 30 lbs. Afterwards, fill up the box, pack it tightly, and tape the box.
Ship It:
After packing the papers, the next step is to ship. You will start off by going to the Ship 'N' Shred website, and press the start button. After, you will input your shipping and payment information. Additionally, you will provide specific information about your papers and boxes. Then, you will print off the shipping label(s) for each box. You have two options when it comes to shipping. For shipping, you can either schedule a FedEx pickup (they will come to you) or you can drop it off at a FedEx location within 10 business days (you go to them).
Track It:
Once you ship the boxes, you can track them at any time. After the document are destroyed, you will receive an email certificate of destruction. This helps provide proof of destruction as well as maintain a proper chain of custody.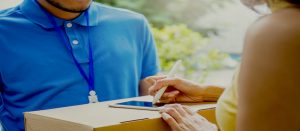 At Shred Nations, we try to make the process as simple as possible. However, it's important to continue to uphold data protection methods. Shredding is a secure way to destroy important documents. These services combine the security of shredding and the safety of your own home.
An important thing to consider is price. In fact, Ship 'N' Shred is an easy solution for paper shredding. However, there is a point where it's not the most cost effective. This is where mobile shredding comes into play. Ship 'N' Shred is best for boxes up to 100 lbs. On the other hand, mobile shredding services are best for projects over 100 lbs. After you know how many boxes you have, you can decide which option is best for you.
Do You Have Documents to Shred? Get Connected Today
There are many comparisons to be made for both mobile shredding and Ship 'N' Shred, so consider the project's quantity to better decide which option is best. It depends on your exact project specifications. However, both services are convent and cost effective. 
To get started, fill out the form, use the live chat, or give us a call at (800) 747-3365. Afterwards, you will receive a free, no-obligation quote and then select the best option for your needs.