Choosing the right sized shred bin can make the document shredding process streamlined and efficient. Follow this guide to ensure you set up your shredding program with maximum effectiveness and efficiency.
Different Sized Shred Bins: Pros and Cons
The size shred bin you select depends on a variety of factors including how much paper you produce, how your office is organized and laid out spatially, how many bins you want, where you want them placed throughout your office, and more.
You'll also want to consider office decor as shred bins come in different styles for more refined offices.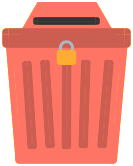 Small Sized Shred Bins
Small shred bins are often called mini shred bins or personal shred consoles are designed to hold small volumes of paper and fit neatly on or under desks or counter-tops.
Pros
Individuals can keep bins at their desks, or small departments can each have their own shred bin making proper disposal convenient and making the shred bins more likely to be used.
Cons
When it comes time to empty the bins there is more work to be done—hauling, unlocking, and emptying shred bins can be hard work, so the more bins you have the more labor intensive it is and the more time it will take.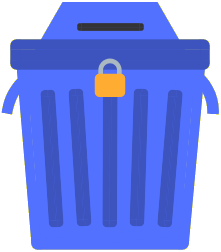 Medium Sized Shred Bins
Medium sized shred bins can hold around 100 lbs worth of paper and are designed to stand on floor, looking similar to a trash can, but they are secure and have one small slot for feeding paper into the bin.
Pros
If you produce large amounts of documents that need to be shredded, medium sized shred bins can be a good fit. You can schedule frequent pick-ups to ensure your documents are shredded in a timely manner, and you can consolidate shred bins and just place a few medium sized bins throughout the entire office.
Cons
Without many small bins throughout the office you might risk employees opting for the trash when a file should have been placed in the shred bin.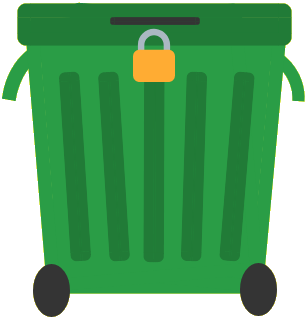 Large Sized Shred Bins
Larger shred bins are often called shred totes or carts, and are usually on wheels to make transporting the heavy contents to the shred truck quick and easy.
Pros
For large organizations that handle robust volumes of sensitive information (like hospitals) large shred bins are essential. With capacities up to around 600 lbs, you will always have enough space for your sensitive files.
Cons
Large shred bins can be bulky and unattractive to the eye. Placement of larger bins requires them to be placed out of the way, where it might be inconvenient for employees to access.
How to Calculate How Much Paper I Have that Needs Shredding
Calculating the amount of paper you have to shred will help you know which type of shred bin is right for your organization.
One ream of paper weighs about 5 lbs. A standard bankers box holds roughly 30 lbs worth of paper, so if you have several boxes of files, multiply that by 30 to get the amount of paper you have in pounds.
Use this shredding calculator to convert your file volume to pounds.
Then do the math below to convert pounds of paper to gallon sized shred bins for a better feel for the size container you will need for your office.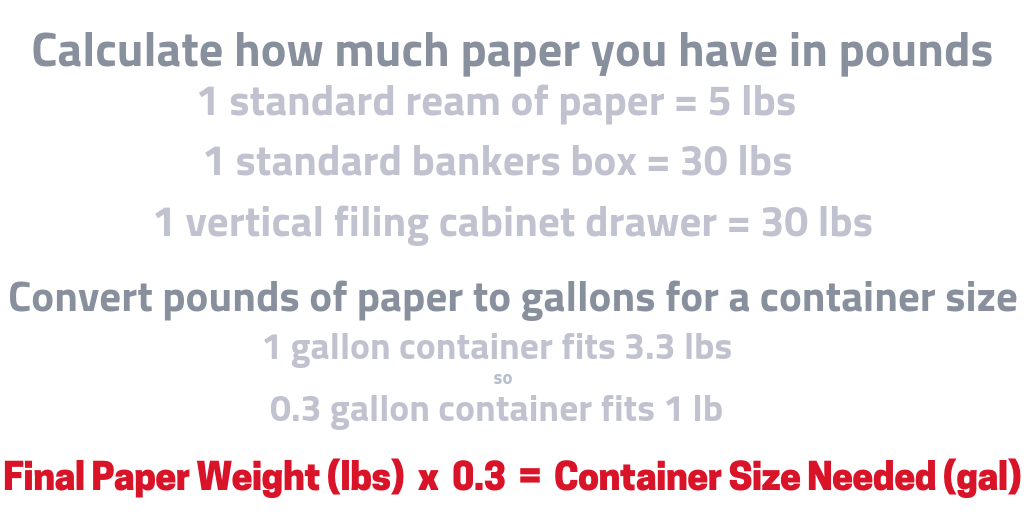 Which Shred Bin is Best For Me?
Now that you know how many pounds of paper you have, and you have considered the pros and cons of each general bin size, use the chart below to find the right shred bin for your needs.
Keep in mind that you can place several shred bins throughout your office, so even if you produce hundreds of pounds worth of paper a month, you can choose to have several smaller bins placed strategically throughout the office for optimal security and ease of use.
| | | |
| --- | --- | --- |
| Shred Bin Type | Shred Bin Size | Paper Capacity |
| Personal Shred Console | 6 gal | 20 lbs (less than one box) |
| Mini Shred Bin | 24 gal | 75 lbs (2.5 boxes) |
| Standard Shred Bin | 32 gal | 100 lbs (3.5 boxes) |
| Shredding Tote | 32 gal | 120 lbs (4 boxes) |
| Shredding Cart | 64 gal | 230 lbs (7.5 boxes) |
| Large Shredding Cart | 96 gal | 340 lbs (11.5 boxes) |
| Extra Large Shredding Cart | 175 gal | 600 lbs (20 boxes) |
Find a Shredding Service Provider Who Can Pick Up Your Bins Regularly
Shred bins and regularly scheduled shredding services ease the shredding process and help ensure your organization is secure and compliant.
Shred Nations partners with reliable document shredders across North America. We can get you free quotes on shredding services from multiple providers in your area so you can choose the best option for your needs.
Call us at (800) 747-3365 or fill out our form for free quotes on secure shredding near you.