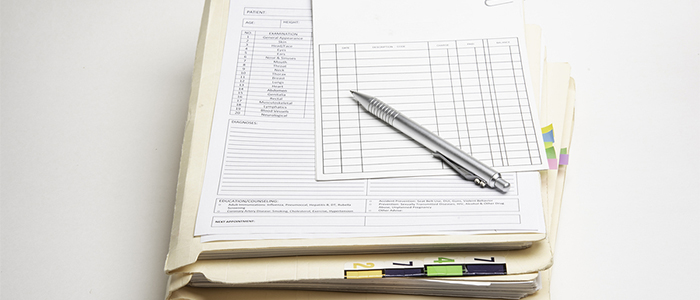 Medical records destruction logs help to organize destruction and retention tracking for records. This helps to physically get information on paper.
Additionally, the goal of a destruction log is to keep a permanent record of all retired, inactive, and shredded documents. Also, it's best to include as many details as possible.
Learn more about a proper medical record destruction log and how they can help with medical record best practices by watching the video or transcript below.
Video Transcription
Information to Include In Your Destruction Log
Organizations, including AHIMA and the HIMSS, recommend keeping medical records destruction logs permanently and documenting a range of information. Additionally, this includes:
Names

Description of the record's general contents

Media type

Time of destruction (e.g. Was it during normal work hours?)

Date and method of destruction

General patient information

Inclusive dates covered

Witness names and signatures
What Separates Medical Records Destruction from Normal Document Shredding?
Hospitals, physicians, and other members of the healthcare industry produce waste that's unique to healthcare. Additionally, this include information such as protecting health information (PHI).
This ranges from payment and insurance information to patient diagnoses. Also, PHI protection and destruction is tightly regulated by HIPAA. If records are lost or stolen, it will can bring large financial penalties. Common types of PHI include:
Names (full or last and first initial

Local geographical identifiers

Dates related to the individual (year excluded)

Social Security numbers

Phone numbers

Email addresses

Insurance and payment information
How Keeping a Destruction Log Helps
A common roadblock in medical records management is how to handle record retention and stay within the lines of HIPAA and state standards.
One of the greatest advantages of a medical records destruction log is how it can provide a singular place to track records retention and destruction. In turn, it simplifies your medical records management as a whole.
State & HIPAA-Compliant Medical Record Destruction
A medical records destruction log provides a permanent record of what files you had, how long, and when they were destroyed. In the event of any legal action, you can provide as evidence of compliance with HIPAA and state record retention standards.
Additionally, you need to destroy medical records after reaching the end of their life cycle. The certificate of destruction will outline security details ranging from witnesses to shredding times and dates. In addition, this only further reinforces your wall of protection from data breaches and other legal liabilities.
Options for Destroying Medical Records
Although there isn't an all-encompassing standard for medical records retention, one thing HIPAA and all state laws share is the need for destroying medical records.
Additionally, there are typically two main methods for destroying medical records and preventing a potential data breach—mobile or off-site shredding. Although they each have unique benefits, one valuable thing they have in common is how a certificate of destruction is always provided after the service.
Mobile Shredding
With mobile, a shredding truck comes to your location and shreds your medical records at your curbside. Providers only handle locked containers and never come into contact with the records you shred. In addition to personally witnessing shredding, you get a formal certificate of destruction afterwards.

Off-Site Shredding

With off-site, a truck will still come to your location, but the records are picked up and taken to an off-site shredding facility instead. Additionally, off-site shredding is a good way to destroy records in bulk. PHI is stored in

locked containers

during transport, and you'll still receive a certificate of destruction after.
Have Medical Records with Expired Retention Times?
Additionally, shred Nations has helped countless medical providers with their medical records destruction through our network of secure shredding partners. To get started yourself, fill out our form, give us a call at (800) 747-3365, or contact us directly through our Live Chat. Afterwards, you will receive a free, no-obligation quote from providers in your area.