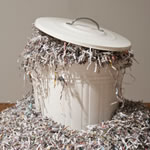 The threat of identity theft has created the need for every home and business to shred. It only takes sensitive information from one sheet of paper to set up false accounts in your name. Now you are spending your free time chasing an evil phantom with your name.
There are countless ways to shred paper. Just tearing it apart is a great solution for a page or two but obviously doesn't scale to a stack of junk mail. For this volume you should consider purchasing a shredder.
There are a few things to take into account when choosing a paper shredder. Make sure it is a micro-cut or cross-cut shredder. Strip shredders don't provide enough security since it is so easy to reassemble the pages. The shredder should be large enough to handle several pages at a time. You will want one that can shred junk mail without requiring you to take it apart. Never opt for the cheap ones that fit on the top of a trash can. You will be replacing it in no time and end up spending more than just buying a good one.
Shredders work fine for incoming junk mail but aren't a great solution for end of year and tax time cleaning. When you have a couple of drawers full it is time for something more. Now it makes sense to use services like Ship 'n' Shred. They offer shredding by the box full. It makes the shredding convenient by picking up at your home or office.
Businesses produce even more volume than what is at a home. Now a professional shredding service is the most cost effective solution. Professional shredders have industrial equipment to shred by the trash bin full. Larger equipment allows for economies of scale to reduce the price per pound.
Professional shredding services offer on-site or off-site shredding. On-site shredding is when the shredding is done at your location using specialized trucks. Off-site shredding is done at a secure shredding location. Both methods comply with federal and state privacy laws. The reason to pick one over the other is personal preference. It is more expensive to bring out the shredding truck, but you may want to see it done. The one exception is negotiable instruments like un-cashed checks. You will need to witness the shredding in this case.