Shred Nations Amarillo Location
Shred Nations Amarillo
2607 Wolflin Ave
Amarillo, TX 79109
(806) 749-7991
amarillo@shrednations.com
Hours:
M-F 8:00-6:30
Sat 9:00-3:00
Sun closed
Pricing:
$2.00 per pound
* Pricing is not guaranteed and is subject to change by the individual merchant
Document Shredding Services in Amarillo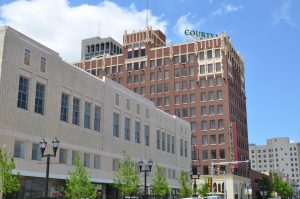 Shredding documents with private information is an important task and finding the right method is necessary. Shred Nations has a method that fits everyone's needs, including mobile and off-site shredding. Our customers can choose to witness the shredding, and they will receive a certificate of destruction for their records.
Shred Nations is proud to support shredding companies in Amarillo by partnering to offer shredding and hard drive destruction services. We will connect you to local providers based on the information protection needs of your business.
Amarillo Shredding Services:
Are you in need of a shredding service that is quick, easy, and secure? Mobile shredding is a convenient service that comes directly to your location to complete your shredding project onsite. You may witness the shredding process for legal requirements or your peace of mind.
Do you have an extra-large shredding project to complete? Cross it off your to-do list with offsite shredding. No shredding project is too large, we will pick up your documents and transport them to an offsite facility for destruction.
Are you ready to update your electronic devices, but not sure what to do with the old ones? Hard drive destruction ensures that the private data stored within your devices will never be recovered. We take apart your devices, shred the drives, and recycle what is left.
Shredding and hard drive destruction with Shred Nations Amarillo will keep you in compliance with all federal and state privacy laws. Our knowledgeable partners offer services that are reliable and safe. Call us at (806) 749-7991 or fill out the form for free, no obligation quotes from local providers today.
Relevant Laws and Regulations in Amarillo and Texas
Texas Information Disposal Act: House Bill 698: Mandate to protect Texas consumers by requiring businesses to destroy personal information properly through the use of shredding, erasing, or other permanent destruction.
Business and Commerce Code Sec. 521.053: Requires that businesses notify customers when a security breach has exposed personal information.
Health Insurance Portability and Accessibility Act (HIPAA) Requires the healthcare industry to safeguard personal health information with proper destruction of medical records.
The Gramm-Leach-Bliley Act (GLBA): Restricts financial institutions in the way they manage client documents.
The Fair and Accurate Credit Transaction Act (FACTA): Restricts financial institutions in the way they manage client documents.
Get Free, No Obligation Quotes on Destruction Shredding Services throughout Amarillo
Shredding and hard drive destruction services protect your customers, employees, and your business. Shred Nations Amarillo is here to connect your with local providers and services to help you stay in compliance and keep your information safe. Call us at (806) 749-7991 or fill out the form to get started right away. 
Shred Nations proudly serves these cities near the Amarillo area:
Borger | Brownfield | Canyon | Clovis | Dumas | Elk City | Guymon | Hereford | Levelland | Liberal | Lubbock | Pampa | Plainview | Portales | Tucumcari