Shred Nations Albany Ga Location
Secure Document Shredding Services in Albany, GA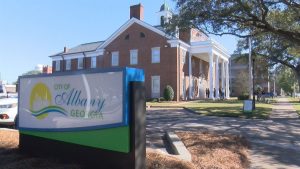 The shredding of private documents prevents breaches of private information. At Shred Nations, we connect you with the provider that is the best fit for your business and your shredding needs. Our providers specialize in document destruction ranging from mobile shredding to off site shredding. Once your documents have been destroyed, you will be given a certificate of destruction.
Shred Nations Albany is pleased to partner with local professionals to provide quality shredding and hard drive destruction services. For more information on our information protection services contact us today.  

Document Destruction Services Around Albany
Mobile shredding is an onsite shredding solution that will send a truck to your location for immediate shredding, eliminating the need to transport your documents and assuring security by allowing you to witness the destruction of your documents. 
Off site shredding if for large volumes of shredding for businesses and individuals with high paper waste production. Locked bins will be provided to fill and safely transport your documents to a shredding facility.
Hard drive destruction is the only guaranteed solution to protect electronic information while ensuring compliance with HIPAA, FACTA, and other mandates to completely destroy data. 
To find out more about our shredding services in the Albany area, give us a call at (229) 255-3012 or fill out the form on this page. 
Relevant Laws and Regulations in Albany and Georgia
Georgia Code § 50-25-4: Outlines that The Georgia Technology Authority is able to have powers such as; enforcing security standards and to conduct audits. 
Health Insurance Portability and Accessibility Act (HIPAA): HIPAA applies to healthcare and related fields regarding record retention and destruction policies.
The Gramm-Leach-Bliley Act (GLBA): GLBA clarifies standards for the financial industry regarding the management and destruction of client information. 
The Fair and Accurate Credit Transaction Act (FACTA): FACTA protects consumer information by requiring businesses to protect and dispose of personal data. 
Get Free, No-Obligation Quotes on Document Shredding Services in the Albany Area
Give us a call at (229) 255-3012 or fill out the form to be connected with Albany-based contractors. 
Our Albany partners provide secure and reliable shredding services. They are happy to answer any questions you may have and will tailor price quotes to your specific shredding needs. 
Shred Nations proudly serves these cities throughout the Albany, GA area:
Acree | Armena | Ashburn | Baconton | Beloit | Chehaw | Dawson | Dewitt | Leary | Leesburg | Newton | Oakfield | Pretoria | Putney | Radium Springs | Sasser | Smithville | Sylvester | Vancise | Williamsburg | Winterwood