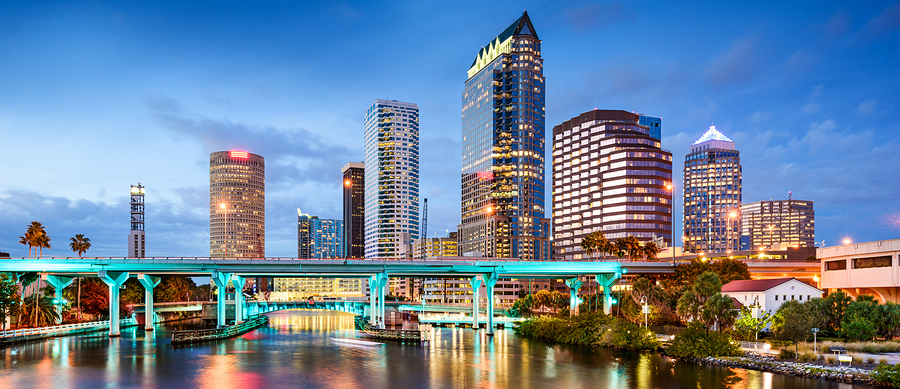 Sitting on the shores of the sunny Gulf of Mexico, the city of Tampa offers an abundance of attractions to its residents and visitors alike.
Ranked fifth best outdoor door city by Forbes and the fifth most popular city for where Americans would like to live, Tampa Bay boasts a still-growing population of 4.5 million. With plenty of people to visit the city's amusement parks, beaches, and sports events, there is also plenty of need for the reliable destruction of documents and electronics in Tampa as well.
No matter if you are in need of a one-time shredding purge or are instead hoping to set up weekly, bi-weekly, or monthly shredding, Shred Nations Tampa can help to offer an answer, providing a variety of services to best suit the needs of each and every one of our customers.
Shredding Services Offered by Shred Nations Tampa
Whether you prefer being able to witnessing the shredding of sensitive documents yourself or you simply don't have the time to take your documents to a shredding facility, mobile shredding services are your solution. A shredding truck makes the trip to your Tampa Bay location, completely destroying your documents on site.
Much like mobile services, offsite shredding provides the convenience of a mobile shredding truck coming to you to pick up your documents. Although your documents are then taken offsite to be shredded at a secure facility, this option is often favored as the most cost-efficient shredding service for larger projects.
Besides just the paper documents you accumulate around your home or business, you must also take proper steps to securely destroy electronic devices and hard drives to ensure your sensitive information can never be recovered. With electronic media destruction services though, we can assure the absolute destruction of all your digital devices, including old computers, fax machines, hard drives, and more.
To get started scheduling mobile shredding, offsite shredding, or electronic media destruction services from Shred Nations Tampa, just give us a call at (813) 659-5392 or fill out the form to the right.  We can quickly provide you with free quotes from local document destruction services in Tampa to help find you the ideal service to match your budget.
Relevant Shredding Laws and Regulations in Florida
Florida 501.171—Security of Confidential Personal Information: According to this Florida state legislation, both Florida businesses and state or local governments to take all reasonable measures to protect the personally identifying information of individuals. This law also requires businesses and governments to notify all affected individuals as soon as possible in the event of a data breach.
Florida Administrative Code 1B-24.003—Approved Methods of Destruction: This Florida Administrative Code lays a groundwork for proper destruction of public records, requiring that businesses and agencies must take all measures to ensure that the destruction of records will be conducted in the interests  of preserving the security, safety, and privacy of individuals.
Get Free, No-Obligation Quotes on Shredding Services Near Your Florida Home or Business!
Shred Nations Tampa is able to offer secure local document shredding and destruction services throughout the greater Tampa Bay area. We strive to connect our customers with the top Tampa shredding providers in order to provide both reliable and affordable service options.
With a nationwide network of shredding and document destruction contractors, we can help to schedule and complete your shredding services as quickly as possible—no matter whether you need a mobile shredding truck to arrive at your curbside, or an electronic media destruction service to crush your old computers. For a list of free shredding quotes, simply fill out the form at the right of your screen, or just give us a call at (813) 659-5392 today!
Our normal hours of operation are Monday–Friday from 9:00 AM to 6:00 PM, and Saturday from 10:00 AM to 3:00 PM, EST.