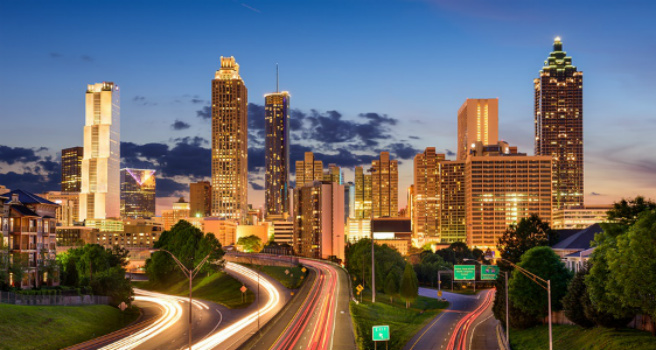 Shred Nations Atlanta specializes in connecting individuals and businesses with data destruction services anywhere in the Atlanta area. We take pride in providing you with superior service and competitive pricing, and can get you connected with a secure and reliable shredding contractor that will work quickly to complete your project.
Atlanta is the busy capital of Georgia, and is the most populous city in the state. The city is known to be one of the biggest business centers in the nation, and boasts many attractions, including multiple museums, theaters, the Georgia Aquarium, and the World of Coca-Cola, creating a busy industry for tourism.
With the local homes, businesses, and thriving tourist center, the thousands of people throughout the city every day generate a constant need for data disposal services. Shred Nations serves anyone throughout the Atlanta and surrounding areas, from Alpharetta down to Fayetteville. Regardless of your specific needs, we can find you the right contractor for your shredding service.
Secure Destruction Services in Atlanta
Are you in need of a shredding service that will come right to your curbside, and perform your shredding service right before your eyes? An onsite mobile shredding truck is your answer!
If your office is being taken over by the amount of materials that you need to dispose of, you may want to look into offsite shredding. A secure facility will take care of everything for you in mere minutes!
Your electronic devices hold more of your personal information than any other person should be able to see. Protect yourself by utilizing our electronic media shredding services!
Relevant Atlanta State Laws and Regulations
Here at Shred Nations, we understand the need to protect your sensitive information from getting into the wrong hands. Our contractors are required to comply with all applicable destruction laws and regulations. Along with federal laws such as FACTA and HIPAA, here are some of the related state laws:
Georgia SB475 – The Georgia Information Privacy Act requires that any materials containing private information are to be deemed unreadable or properly erased before being disposed of.
Georgia Personal Identity Protection Act – Georgia Code 10-1-910 states that any business that suffers a data breach is obligated to notify any parties that may have been affected.
Call Now to Receive Your Free, Personalized Quote for Shredding Services in Atlanta!
Shred Nations Atlanta offers personalized service for anyone across the Atlanta and surrounding areas. No matter what your specific needs may be, we will be able to find contractors that will provide you with quotes specific to your project. If you are in need of destruction services anywhere in Atlanta, we are here to help!
With a nationwide network of the top shredding and electronics destruction providers, our team of experts is prepared to answer any further questions you may have, and will get you connected with contractors anywhere in the Atlanta area.
For a free, no-obligations quote on any of our document destruction services, simply fill out the form to the right or give us a call at (404) 220-9869. Within minutes, you will receive quotes from companies that will work hard to complete your project.
Our hours are Monday through Thursday from 8:00 AM to 7:00 PM, Fridays between 8:30 AM and 6:00 PM, as well as Saturdays starting at 9:30 AM through 4:00 PM, EST.