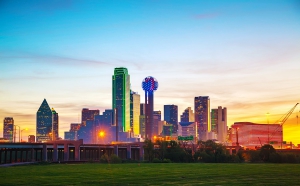 Not just a major city in the state of Texas alone, the bustling city of Dallas is the fourth most populous urban area in all of America, boasting a population of nearly 1.3 million as of the 2014 US census.
With sights and sounds ranging from the Dallas Arboretum, to the Botanical Garden and Perot Museum of Nature and Science, there is more than enough to see and do here.
Besides the sights and sounds though, Dallas additionally is home to the third-largest concentration of Fortune 500 companies in the nation, meaning there is also a vast wealth of business documents needing proper management and shredding circulating this massive city.
Luckily for Dallas residents and business owners alike, Shred Nations Dallas specializes  in finding the top local shredding providers in the area, striving to connect each of our customers with customized pricing and service schedule options to meet each of their needs.
Whether it's electronic media or traditional paper, Shred Nations' secure offsite and mobile shredding services are your solution!
Shredding Services Offered by Shred Nations Dallas
Whether you are required to witness your sensitive documents being shredded, or you simply just don't have the time of day to make the trip to an offsite shredding facility with all your files, convenient mobile shredding services are the solution. A mobile truck comes to your Dallas home or office, securely shredding your documents right at your curb.
When you have so many documents that need regular shredding in order to keep up, then offsite shredding from Shred Nations may be the service for you. With an industrial shredder at one of our secure offsite facilities, not only can we handle any volume of shredding, but it's also the most cost-efficient option for large-scale shredding needs.
Even after erasing all your personal information from your electronic devices, there is still software used by data thieves to recover previously deleted data from old electronics. Degaussing or completely destroying your hard drives and digital  files using electronic media destruction services  from Shred Nations Dallas is the only way to ensure your sensitive information is protected.
Relevant Shredding Laws and Regulations in Texas
Texas Information Disposal Act (House Bill 698) – An amendment to the Texas Business and Commerce Code, this law requires that business documents that contain personally identifying information are to be erased, shredded, or destroyed by other means before being discarded.
Texas Business Duty to Protect Personal Information (Sec. 521.052) – Similar to information protection laws in other states like California, this law requires all businesses in the state of Texas that hold sensitive personal information via computerized data to inform any and all affected parties in the event of a data breach.
Get Free, No-Obligation Quotes on Shredding Services Throughout the Dallas Area!
At Shred Nations Dallas, we can quickly connect you with reputable shredding contractors—no matter your location in the Dallas area. Within minutes of receiving your request, our shredding experts will be in touch with free estimates on shredding services from nearby Dallas companies who can schedule and complete your shredding service as soon as possible.
To learn more about our available services, just give us a call at (214) 764-7276, or simply fill out the form to your right to request free shredding quotes today.
Our normal operating hours are Monday–Friday from 8:30 AM to 6:00 PM, and Saturday from 10:00 AM to 3:00 PM, CT.