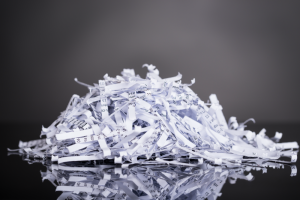 As concerns over identity theft continue to grow, individuals and businesses have considered renting industrial shredders to take care of their documents—but is the investment worth it?
Consider doing a Google search and finding out on Angie's List that leasing or renting a commercial shredder can cost upwards of $10,000.
At first glance you might think this will save you money over time on your shredding projects. However, you will also need to take into account the cost of an employee managing all of your shredding projects.
This cost quickly adds up over time. Depending on the employee managing your shredding project, it might be more cost-effective to take advantage of a mobile shredding option.
Does Buying an Industrial Shredder Save Me Money?
In a time where individuals want full control over their safety and protection, buying an industrial shredder seems like a good idea.
According to the Small Business Chronicle, industrial shredders can cost upwards of $56,000. For most businesses, this falls far out of their price range. Some larger companies however, might consider taking advantage of a one-time cost to keep others down.
Except, it's not just a one-time cost.
Companies who purchase industrial shredders need to be prepared for the maintenance, upkeep, and employee manpower it takes to continue running a shredding operation smoothly.
Read more about the costs of purchasing an industrial shredder on the Small Business Chronicle website.
Back to Renting—Why Should I Choose a Mobile Shredding Option?
Mobile shredding is similar to renting an industrial shredder in the fact that you will be able to shred large quantities of paper in an industrial shredder quickly. The key difference, is that a shredding service employee will come to you and perform the service.
Rather than having an employee operate the rented industrial shredder, a professional will assist you in destroying your documents.
For those nervous about the safety of mobile shredding, take into consideration you can witness all of the shredding occurring with a mobile shredding option.
Let Us Help You Find the Best Shredding Solution For Your Business!
Renting. Leasing. Mobile. Drop Off. There are a lot of options when it comes to choosing the best shredding solution for your business. Whether it be a small, locally-owned store or a large corporation, Shred Nations is here to help!
By calling us at (800) 747-3365, or by filling out the form to the right, you can save hours assessing each shredding option. Instead, we'll do it for you!
Our Shred Nations professionals know how to assess your project in minutes and connect you with the best service provider in your area. The best part? It's absolutely free to receive a no-obligation shredding quote from us.
So what's stopping you? Give us a call today!