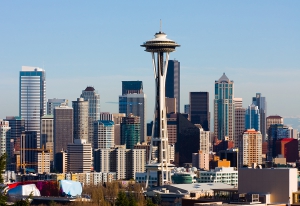 Shred Nations Seattle offers paper shredding and data destruction services throughout Seattle, WA and all of the surrounding areas.
We provide you with fair, competitive quotes for any shredding service you require, from a one-time purge to weekly, bi-weekly, or monthly pickups.
Secure Shredding Services Provided Throughout the Seattle Area
Mobile shredding eliminates the need to send your documents somewhere else to be shredded. You can witness your documents being shredded at your location—and they're destroyed while you watch, without having to leave the comfort of your office.
Offsite shredding is a great option for people with a large volume of paper to be shredded and do not have to physically witness the shredding. An offsite shredding company picks you your documents in a truck and delivers them to a secure offsite shredding plant.
The only way to remove all of the information stored on Hard drives, DVDs, and microfilm is to have them completely destroyed. Leaving Personally Identifiable Information on retired devices puts you at risk for lawsuits and PR nightmares. Use a secure Seattle electronic media destruction service to combat this problem.
Shred Nation Seattle offers mobile shredding, offsite shredding, electronic media destruction, and more! Give us a call at (206) 535-2947 or fill out the form to the right for free shredding quotes. We'll find a reliable document shredding service in Seattle at a good price that fits your budget.
Relevant Laws and Regulations in Seattle and Washington
Wash. Rev. Code § 19.215.020—This Washington shredding and data disposal law states that any business entity must take all reasonable steps to destroy—or arrange for the destruction of—personal financial and health information and personal identification numbers in any business records when disposing of records.
Get Free, No-Obligation Seattle Shredding Quotes Today!
Shred Nations Seattle offers secure shredding and data destruction services throughout Washington.
If you need mobile shredding, offsite shredding, or electronic media destruction in Seattle or any surrounding areas, simply give us a call at (206) 535-2947, or just fill out the form to the right for free quotes.
Our normal operating hours are Monday–Friday from 9:00 AM to 6:00 PM, and Saturday from 10:00 AM to 3:00 PM, PST.