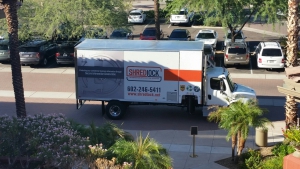 Our featured partner of the month is ShredLock, a valued Shred Nations partner since 2015.
We are honored to work with a company that values the protection of your confidential information and is dedicated to the secure destruction of your documents.
We were able to learn more about ShredLock from  Rob Douskey. Find out what ShredLock is doing to exceed shredding expectations.
How did you get into the shredding industry?
ShredLock started in August of 2015. Our partners have over 30 years combined industry experience having worked in senior management roles with the national providers. We wanted to be more customer focused and in touch with our customer base.
What is your business philosophy?
We provide great customer service at reasonable rates. We have programs designed for every budget and every size project. We want to be known as the best shredding provider in the market by wowing our clients with every interaction.
How has your business changed over the years?
The industry has changed over the years with the consolidation of the national players. We see this as an opportunity to be the provider that is available and can handle the needs of every client. Our customers will always receive a live person in the market, no call centers, or being shuffled around from person to person.
Do you have a shredding specialty?
We offer complete on-site shredding services for all paper media and hard drives.
What makes your company unique?

I believe we go the extra mile for our clients for weekend services to rush after hour's projects. Whatever the need, we have a solution for them. We aim to be the best not the biggest so we don't ever lose that personal connection with our customer base.